Fall Colors
Learn about why the leaves change color and participate in a fun observation activity.
Signs of Fall
Some people say fall starts on September 1. Others say fall begins after Labor Day, or at the autumn equinox, which falls on September 22 in 2020. But whenever you draw the line between the seasons, there's a definite chill in the air in these mornings that shows us fall is arriving.
What are some signs of fall we can observe in nature? Talk this over together before you go on. Here are some signs you might think of:
Temperatures decrease
The sun rises later in the day and sets earlier, so nights are longer and days are shorter
Flowers finish blooming
In New Mexico, roasting chile smells are in the air and other foods such as squash and pecans are harvested too
Some plants die and dry out
There are fewer insects out and about
Some birds start to migrate away, and others arrive
The leaves on some trees change from green to yellow, red, or brown, and then fall off the tree
Why do leaves change color in the fall? Some trees, such as cottonwood, aspen and oak, can't keep their leaves healthy through the cold of winter when the water they need is usually frozen. So they stop producing chlorophyll, the green pigment that helps them convert sunlight into energy. Nutrients in the leaves are broken down and transported to the trunk and roots for storage over the winter. As this happens, the leaves stop being green. Instead, they show the colors of other pigments found in their leaves like carotenoids, which are orange. Eventually, all the pigments are broken down or stored, and the leaves turn brown and dry, falling off the tree. Some years, especially if there is an early freeze, the leaves don't have much of a chance to show their colors before they fall. What do you think the leaves will do this year?
Activity: Keep a Fall Nature Notebook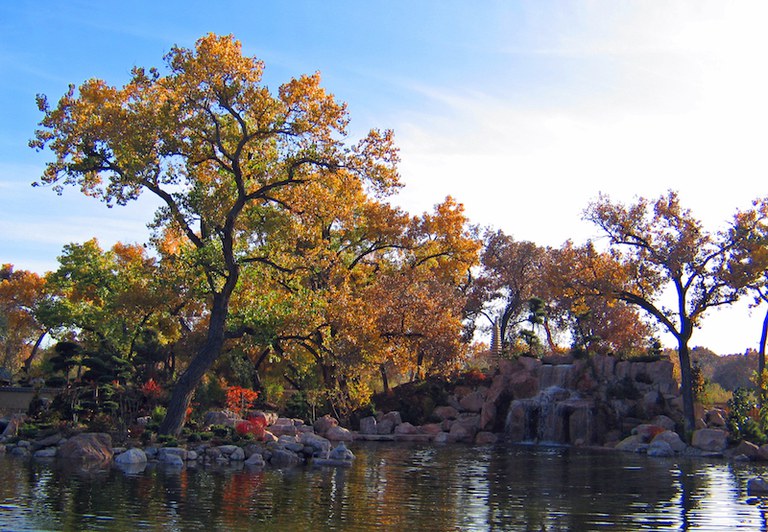 There are lots of questions we can ask about the leaves changing colors.
What trees will change color?
When will leaves change color?
What color will the leaves become?
When will the leaves fall off the trees?
Let's answer these questions for trees near you. The only tool you'll need is a notebook, or blank paper you can keep together in some way and a pen or pencil.
First, find some trees you want to monitor. These can be trees in your yard, in areas near your home, in a city park or along your favorite nature trail, or even trees planted along a road. It's a good idea to choose two or three different kinds of trees because different species' leaves will change differently. Avoid trees such as juniper and pine—these are called evergreen trees because their leaves usually don't change color with the seasons.
In your notebook, draw a diagram or write a description of where to find your trees.
If you don't know what species of trees you have, we can find out! Using the leaf shape and other characteristics, you can identify your trees with one of these guides:
If you still aren't sure what your tree is, staff members at the ABQ BioPark, Albuquerque Parks and Recreation Department or your local plant nursery are all good sources of information.
Each day, visit your trees and write down your observations. Write the date, the type of tree, and what colors the leaves are that day. You might also want to write down the temperature each day. You can use an outdoor thermometer if you have one, or you can find a weather station near you using weather.gov and write down the temperature they recorded for the day. You can also draw pictures of the leaves in your notebook.
If you find leaves that have fallen from your tree, you can use clear tape or contact paper to save these in your notebook. Don't rip leaves off the tree, though—they need them!
You might notice other things around the trees like bugs, birds and other wildlife. Or big weather events like rain or frost may occur. Write down your observations everyday. You'll be amazed by how much things change in the coming weeks! Don't be surprised if you want to keep writing in your notebook all year long.
Explore More Information
Why do leaves change color? (Resource 1)
Why do leaves change color? (Resource 2)
Identifying Trees (Resource 1)
Identifying Trees (Resource 2)
Identifying Trees (Resource 3)
Identifying Trees (Resource 4)
How to keep a nature notebook, for kids (Resource 1)
How to keep a nature notebook, for kids (Resource 2)
How to keep a nature notebook, for kids (Resource 3)
Miss Elaina's Nature Notebook (PBS Kids)