Volunteering at the BioPark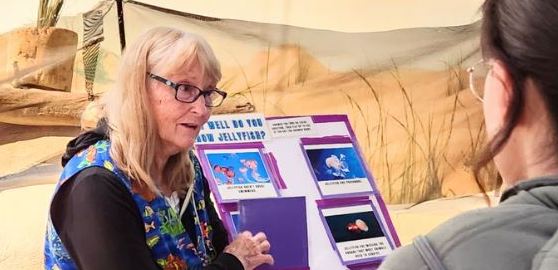 Apply to be a Volunteer
Contact Information
Volunteer Coordinator
505-768-3443
[email protected]
The volunteers of ABQ BioPark Education make many programs at the BioPark possible. Education could not carry out its mission of teaching about life and encouraging conservation without the generous work of volunteers.
No specialized knowledge is necessary to become a volunteer. BioPark staff will teach you everything you need to know in the orientation sessions. We ask that you bring your enthusiasm, a commitment to conservation, a sense of responsibility and patience. Experienced volunteers and staff are available to assist you after training, and monthly volunteer meetings keep you up to date. Find upcoming orientation dates.
Benefits vary with positions, but generally include free admission to all BioPark facilities (the zoo, aquarium and botanic garden) during regular daytime hours and discounts at the food and gift concessions.
Volunteer Opportunities
Volunteer jobs are for ages 18 and older, unless otherwise noted.
Upcoming Volunteer Trainings
No results were found.