Layered Meanings
On view at Albuquerque Museum August 7, 2021–February 20, 2022. This exhibition includes collages, montages, and assemblages from the museum's permanent collection including works by Jaune Quick-to-See Smith, Larry Bell, Valerie Roybal, Robert Rauschenberg, Jerry Uelsmann, and more.
On View August 7, 2021–February 20, 2022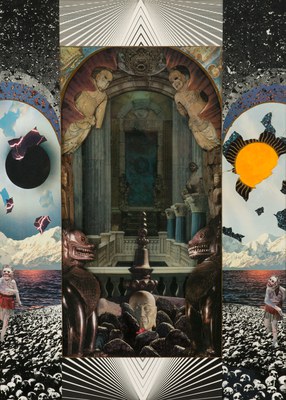 Carlos Quinto Kemm, Sunyata's Temple, 1984, glass and collage, Albuquerque Museum, gift of Gussie and Elmer Schooley, PC1985.92.1
Details subject to change.
Artists across disciplines, mediums, and traditions have used various techniques of collaging materials to explore new artistic possibilities for hundreds of years. When materials are removed from their original source, they take on new meanings and resonances when placed in the context of other objects or images. The introduction of mass produced media such as chromolithographs and photographs began a trend of extracting and recombining diverse images into one composition in order to explore personal and sometimes political meanings.  Collage traditions continue today as a means to explore the potency of combining diverse images and ideas. Layered Meanings includes works ranging from the Pop art movement of the 1960s to contemporary examples.
This exhibition explores various methods for layering imagery and materials to create new possibilities and new realities. Often artists will reassemble everyday objects such as magazine cutouts or scrap paper to create works of art that are fresh, yet familiar. The techniques utilized by artists in Layered Meanings include: collage (layered two-dimensional objects that are adhered to a supporting surface), assemblage (a three-dimensional collage), and montage (imagery combined and layered into a seamless unified composition).
Constructing a unified work from existing materials involves bringing that material's past associations into a renewed interpretation. The resulting layering may have political, psychological, aesthetic, or personal resonances. Artists use various collage techniques to explore ideas about the landscape, psychological layers, abstraction, and the personal vs. the universal. The works seek the artistic possibilities within the mundane; they invite the viewer to consider the expressive potential of the everyday imagery and objects that surround us.