30 Americans
30 Americans explores how artists shed light on issues of racial, sexual, and historical identity.
Hakim Bellamy, deputy director of the Cultural Services Department, takes you on tour of the expansive range of work on view in this not-to-be-missed-exhibition.
On View
October 3, 2020–January 3, 2021
Mayor Keller and Curator of Art Dr. Josie Lopez introduce you to one of their favorite works of art in the exhibition.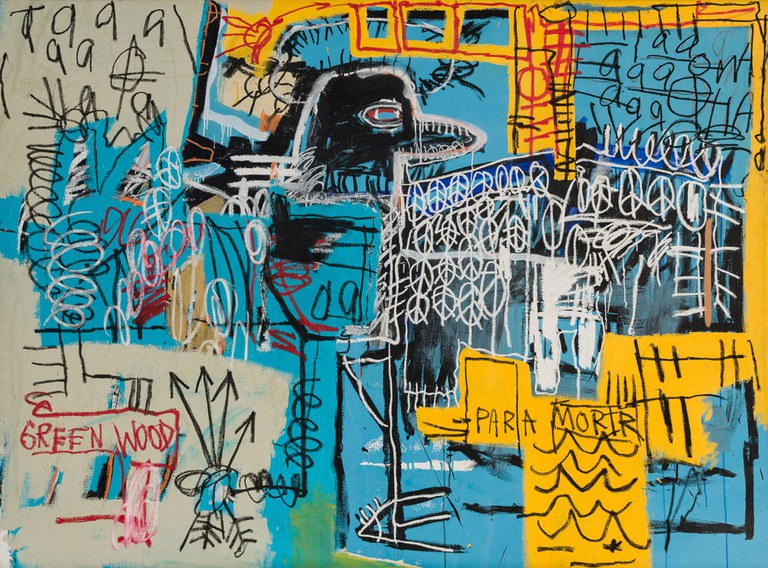 JEAN-MICHEL BASQUIAT
Bird On Money, 1981, acrylic and oil on canvas, 66 x 90 in. (167.6 x 228.6 cm), Rubell Family Collection, acquired in 1981

A comprehensive 224 page hardcover exhibition catalog with essays by Robert Hobbs, Glenn Ligon, Franklin Sirmans, and Michele Wallace is available to purchase from the Museum Store.
Details subject to change.
The exhibition will be on view in Gallery 1.
.
30 Americans showcases many of the most important contemporary artists from across the United States. Created from the 1970s to present, the artworks, including paintings, installations, sculptures, and videos, are aesthetically and thematically diverse. This provocative exhibition explores how artists shed light on issues of racial, sexual, and historical identity.
30 Americans presents compelling art from three generations of African-American artists collected by the Rubell Museum in Miami, Florida. While the Rubell collection does not encompass a comprehensive representation of African American art in the United States, it does provide a sampling of important paintings, sculptures, photographs, videos, and installations that reveal some of the complexities of African-American culture as well as a tension inherent in artistic expression: a tension between the freedom to articulate individual experiences and the powerful social, cultural, and economic forces that shape that freedom. Being American is only one aspect of these artists' identities, and their understanding of what it means to be American is as varied as the artworks on view. 
The artists in 30 Americans ask viewers to reconsider their own identity and to contemplate our place in this country. We invite you to consider the artworks in this exhibition not only as part of a national conversation, but also as an opportunity to reflect on the issues that shape our community.
Artists in the exhibition
Nina Chanel Abney, John Bankston, Jean-Michel Basquiat, Mark Bradford, Nick Cave, Robert Colescott, Noah Davis, Leonardo Drew, Renée Green, David Hammons, Barkley L. Hendricks, Rashid Johnson, Glenn Ligon, Kalup Linzy, Kerry James Marshall, Rodney McMillian, Wangechi Mutu, William Pope.L, Rozeal, Gary Simmons, Xaviera Simmons, Lorna Simpson, Shinique Smith, Henry Taylor, Hank Willis Thomas, Mickalene Thomas, Kara Walker, Carrie Mae Weems, Kehinde Wiley, Purvis Young 
This exhibition was organized by the Rubell Museum, Miami.