Plan Your Visit to Albuquerque Museum
We recommend that you purchase your tickets online in advance.
Museum Hours
Tuesdays–Sunday
9 a.m.–5 p.m.
General admission is free on Sunday mornings, 9 a.m. - 1 p.m. 
EXCEPTION: No free admission during Balloon Fiesta, October 5-13, 2024.
Museum Store Hours
Tuesdays–Sundays
10 a.m.–5 p.m.
Closed: Mondays, Thanksgiving, Christmas, and New Year's Day
Albuquerque Museum
2000 Mountain Road NW
Albuquerque, NM 87104
(505) 243-7255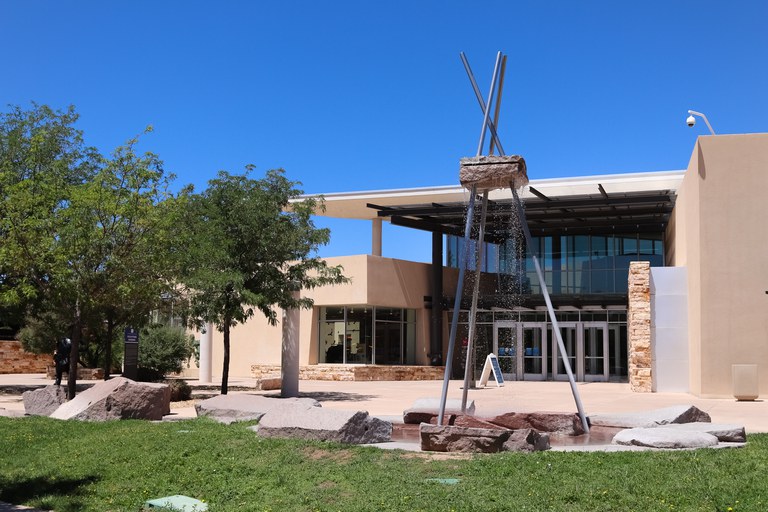 General Information
Sign up to get Albuquerque Museum news delivered to your inbox, including "This Month at ABQ Museum" and announcements about upcoming events and exhibitions.
Albuquerque Museum is the rock-solid cornerstone of Albuquerque's cultural community. All things New Mexico: from the Alvarado to O'Keeffe, Blumenschein to the Bosque, and more.
Whether you're a local seeking to be immersed in art or history, or a visitor wanting to experience Albuquerque's premier cultural institution, be sure to include a visit to Albuquerque Museum.
In addition to world-class exhibitions, the Museum offers a wide variety of programming including educational classes for children of all ages; live performances in its amphitheater; docent-guided tours in the Museum, its Sculpture Garden and Old Town; the Museum Store and the Museum's café, Slate at The Museum.
Albuquerque Museum also includes the historic Casa San Ysidro: The Gutiérrez-Minge House, located in the village of Corrales, just north of Albuquerque. This original Greek revival home, built by the Gutiérrez family in the 1870s, includes Alan and Shirley Minge's recreation of a 19th century rancho, complete with a small family chapel, a central plazuela and an enclosed corral.
Sketching and Note Taking
Sketching and note taking are permitted in Common Ground: Art in New Mexico and Only in Albuquerque galleries with hand-held pads and pencils. Inquire at the information desk regarding special exhibitions. All sketching must be done at least four feet away from objects. Please respect others and do not sit or lie in front of objects, in walkways, or lean on walls. Please cooperate with Albuquerque Museum's security personnel if asked to move.