Selections from Trinity
On view at Albuquerque Museum. A selection of 17 works on paper from the online exhibition Trinity: Reflections on the Bomb.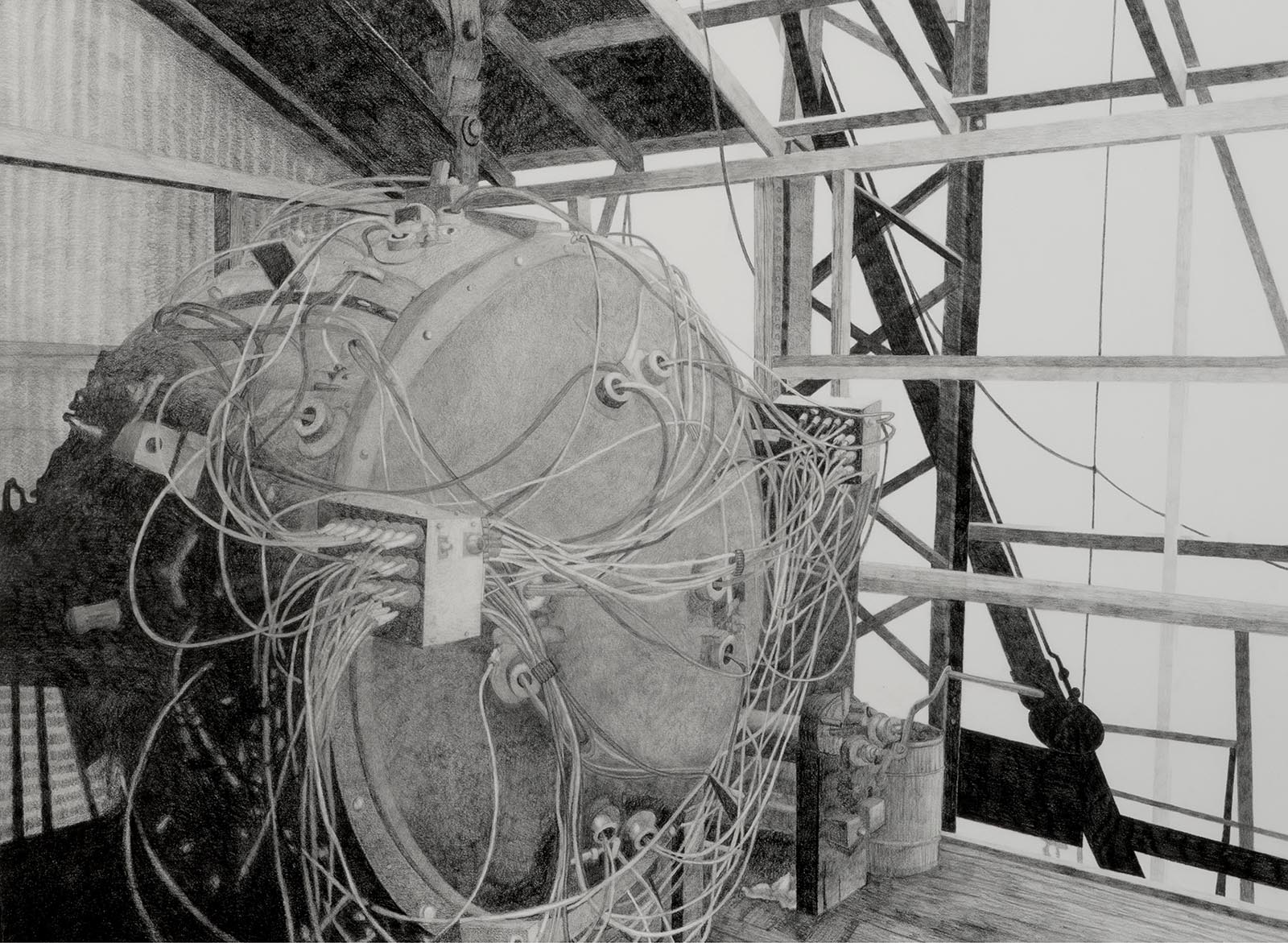 Nina Elder, born 1981 Colorado Springs, Colorado; lives Albuquerque, The Gadget (Trinity Test Site, July 15, 1945), 2011, graphite and radioactive charcoal on paper 22 x 30 in., Albuquerque Museum, museum purchase, 2017 General Obligation Bonds, © 2020 Nina Elder, photo by David Nufer
On View Now
Greg MacGregor, born 1941 La Crosse, Wisconsin; lives Santa Fe, New Mexico, Colorized Los Alamos Archive Negative #5-5-55, 2019, pigment inkjet print from black and white negative, 17 x 22 in., lent by the artist, © 2020 Greg MacGregor, photo by David Nufer
Trinity: Reflections on the Bomb ONLINE EXHIBITION is currently on view.
On July 16, 1945 at 5:29 a.m., the first atomic bomb, nicknamed the "Gadget," was detonated in an area known as Jornada del Muerto (Journey of Death) southeast of Socorro, New Mexico.
Artists, particularly in New Mexico, have created works in response to the Trinity explosion, the proliferation of nuclear arms, and the effects of radiation on humans and the environment. The works sometimes approach the subject with irony or humor, as seen in Greg MacGregor's colorized photographs of black and white negatives from the Los Alamos archive and Luis Jiménez's Mountain Spirits Dancing with Nuclear Rods. Others, like Nicola Lopéz's explosive prints and Tom Joyce's Platen series, were created using physical force, emulating the explosion of the bomb. Patrick Nagatani's portrait of his friend Harry Nadler undergoing radiation therapy reflects on how radiation may be lethal, but it can also preserve life. Through a variety of materials, mediums, and techniques, these artists bring to light the many complexities brought about by the beginning of the nuclear age.
While the related online exhibition Trinity: Reflections on the Bomb features an expansive range of more than 100 works of art and artifacts from artists nation-wide, Selections from Trinity is an installation of 17 works of art that directly hone in on the event of the explosion and the physical bomb itself. In this intimate exhibition, visitors will see works by Nina Elder, Patrick Nagatani, Luís Jiménez, Nicola López, Tom Joyce, and Greg MacGregor installed in the Works on Paper gallery.
This exhibition was organized by the Albuquerque Museum, a division of the Cultural Services Department, City of Albuquerque.