Neal Ambrose-Smith, Abstract in Your Home
On view at Albuquerque Museum. A collaborative effort with 516 Arts supporting working artists.
July 10, 2020 – March 7, 2021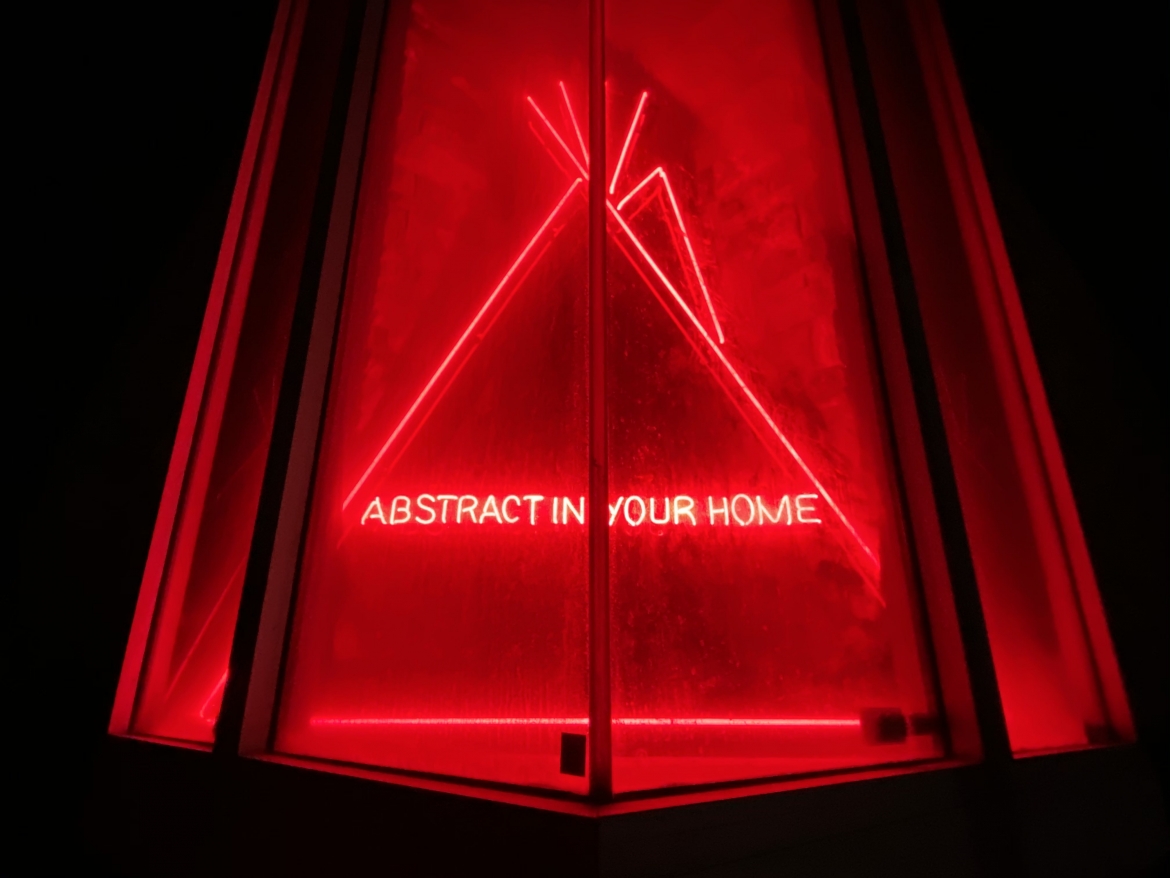 Neal Ambrose-Smith
born 1966, Texas; lives Corrales, New Mexico
Abstract in Your Home, 2009
glass tubing, neon gas, electrical elements
71 x 71 in. (180.3 x 180.3 cm)
Albuquerque Museum, museum purchase, PC2021.87.1
Window view from Mountain Road and 20th Street
Photo: Claude Smith
Windows on the Future is a regional series of storefront art installations on view during the Summer of 2020 across Santa Fe, Albuquerque, and Taos, New Mexico. The collaborative effort, sponsored by 516 Arts, supports working artists with stipend payments and brings vibrancy and vitality to central and northern New Mexico's commercial districts while still encouraging social distancing.
Neal Ambrose-Smith's neon installation at Albuquerque Museum explores concepts of home, abstract art, and cultural experiences. He describes a teepee as a perfectly engineered structure that is incredibly versatile, sturdy, and able to withstand the harsh conditions of the Southwestern climate. It also represents his Indigenous culture and demonstrates how the idea of home may be different depending on time and place but also embodies universal ideas of shelter, familiarity, traditions, and family.
Ambrose-Smith was inspired by a neon work created by Italian artist Pier Paolo Calzolari which featured a blue triangle. Ambrose-Smith transforms the triangle into a teepee which is not only an ideal shelter but also is one of the cultural symbols and objects that have been used to stereotypically represent Native Americans. Smith reclaims the teepee, indigenizing the familiar concept of home, while speaking to his specific understanding of place and culture. He also invites the viewer to grapple with the different meanings of the term abstract in art. His experience allowed him to see a triangle as a tepee. How might other artists and peoples of other cultures see abstract art from the perspective of their own experiences?
Neal Ambrose-Smith, a descendant of the Confederated Salish and Kootenai Nation of Montana, was born in 1966. Currently, Neal is a Pop Artist who works as a painter, sculptor, printmaker, and professor at the Institute of American Indian Art in Santa Fe, New Mexico. His work has received numerous honors and has been featured in collections around the world from the Smithsonian National Museum of the American Indian to the Hongik University in Seoul, South Korea.