Model Rocketry
Information about model rocketry for youth in Albuquerque.
Model rocketry is a great hobby and educational opportunity.
Rocket Build Program
Outdoor Recreation is ready to teach youth how to build and launch rockets.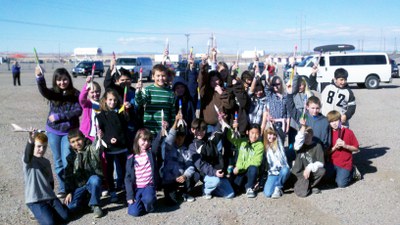 An average rocket build and launch will take approximately three (3) hours for a group of about 20.
Launches can be conducted on site if you have a large, safe open area to launch. If not, launches will be conducted at Balloon Fiesta Park, in the North Parking Lot. For a launch at Balloon Fiesta Park, reservations are required no less than 7 days prior to planned launch. Rockets must be launched in the North Parking Lot. Please contact Susan Rice at 505-768-6050 or [email protected] to reserve launches at Balloon Fiesta Park.
Life skills learned include persistence, reading, following directions, cooperation and basic science.
A minimum of 8 participants are required, with a maximum of 20 per session.
Dates: Year round
Registration: (505) 768-5328