Albuquerque's Birthday Celebration
Festivities featuring all things Albuquerque.

Thank you for celebrating with us!
We appreciate all of the businesses, artists and Albuquerque institutes that helped bring the fun to our 315th festivities! Watch our Thank You Video! We'll see you next year.
---
Albuquerque's Birthday Celebration | April 10-25, 2021 
Let's wish our City a happy birthday together! Albuquerque's Birthday Celebration honors our City and everything local from Saturday, April 10 to Sunday, April 25, 2021. The Department of Arts & Culture has teamed up with local businesses and artists to offer a variety of fun-filled activities, virtual performances, online and local shopping, and more for families to join and wish the City a Happy 315th Birthday! 
Party Favors
The Albuquerque Drive-Through Grab & Go Series presents a Birthday Edition at the Rail Yards! We've made it easy to shop locally and safely. Curated Birthday Bundles contain a variety of handcrafted items you didn't know you needed. Select from a variety of bundles ranging from local food to beauty products to items that represent Albuquerque. Shop until Monday, April 19, 2021. 
Items in the Birthday Bundles include local flare from Bev's Biscochitos, D. Willison, Enchanted Sugar, Genuine Southwest Arts & Gifts, Get Hooked Quality Foods Inc., Granny Annie's Chile, Hundred Hands Craft Coffee, K and C Naturals, Lillie's Handmade Soap, Metal the Brand, NM Prickly Pear Jelly, Organic Books, Treasure House Books & Gifts, and Wethington Holistic Arts. 
Party Places
Local establishments are joining in on the festivities to create the best birthday experience for all. Both City facilities and small businesses will be offering discounts, specials, and unique products. 
 A gift for the family! Enjoy a visit to the Anderson Abruzzo Albuquerque International Balloon Museum. Use code: ABQbirthday at checkout to get a free family-four-pack of tickets for free. Tickets must be reserved in advance. Get your tickets today!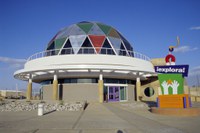 For Albuquerque's 315th birthday, Explora is offering a 31.5% discount off of their non-clearance products from their store, ideas! Explore through their online store and take advantage of this deal using promo code: Bday at checkout. Shop from a variety of products such as Explora @ Home kits, science baskets, educational toys and more!

Visit your local Albuquerque and Bernalillo County Public Library branch and check out the special displays of books by authors from our City and about ABQ history. Click on their link and find a branch near you. Read on Albuquerque! 
Taste of the Wild at the ABQ BioPark is serving up a cool, sweet treat for Albuquerque's birthday. Ask for the Birthday Cone when visiting the ABQ BioPark at Cones at the ABQ BioPark Zoo or the Wildflower Café at the ABQ BioPark Botanic Garden. This delicious treat is topped with a Zia cookie and sprinkles, of course! 
Guerrilla Graphix has created a special designed t-shirt just for the occasion. Visit their store in Nob Hill or Old Town or shop online with ease through their entire inventory of apparel, accessories, art, and gifts. Buy 3 items and get 15% off during the celebration! 

It's birthday tea time! The New Mexico Tea Company is celebrating our City's birthday with New Mexico Breakfast Blend. Shop online at Albuquerque's premier tea store for fine loose leaf tea, herbs, and spices. The Roobios Blood Orange has a special message on the bag, wishing Albuquerque a Feliz Cumpleaños. 
 While shopping around the plazas in Historic Old Town, stop into Blackbird Coffeehouse and warm up with a 
Birthday Latte! Check out the adorable 1706-2021 stir stick. With sprinkles on top, this latte is extra festive, especially at 10% off.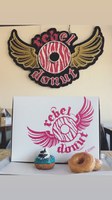 Go nuts for donuts to celebrate! Rebel Donut has created a special ABQ Birthday Bash Donut, a chocolate or vanilla donut dipped in a turquoise icing topped with a chocolate & vanilla swirl of buttercream sprinkled with rainbow nonpareils and silver confetti sprinkles. They are also featuring a green chile raised donut topped with a red chile glaze. Call to pre-order a dozen or two. Ask about vegan and gluten-free options. Calories don't count on Albuquerque's Birthday! 
 Rude Boy Cookies has done it again! They have created extra special cookies to help Albuquerque celebrate a happy 315. Check out their party hats with red chile, the 315 green chile, a Zia birthday cake and of course the happy birthday cookies. Order online and pick them up at their store or have them delivered. 
The Blue Portal in Historic Old Town has created a special ornament for shoppers who want to support local.
This gem will add that Albuquerque flare to your collection and at $12, it's a birthday bargain.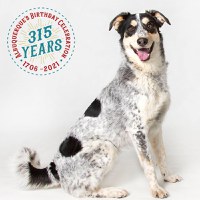 Add a four-legged party pal to your Albuquerque pack and adopt a pet from Albuquerque Animal Welfare. Adoption fees are waived! Search now to see which animals are available. 
Party Playlist
Albuquerque musicians have prepared extra special virtual performances for our entire City to enjoy. Sing-along with these talented artists who love Albuquerque just as much as you do!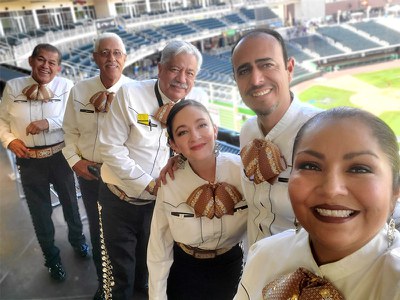 Mariachi Tenampa will kick-off Albuquerque's Birthday Celebration with their rendition of "Las Mañanitas", Mayor Tim Keller will introduce the band and officially wish our City a Happy Birthday on Saturday, April 10, 2021 at 10 a.m. on Facebook and One ABQ Media's YouTube. 
The group is celebrating their own anniversary as they've been in the entertainment business for 50 years. The group has recorded with such artists as Sparx, Lorenzo Antonio, Juan Gabriel, and more! Now you can join in their song as they perform virtually. 
On Albuquerque's actual birthday, Friday, April 23, Mariachi Tenampa will have an encore virtual performance of "Las Mañanitas" on Facebook. Follow to be sure you don't miss a celebration! 
Lara Manzanares is an award-winning bilingual singer-songwriter of Northern New Mexican heritage. 
In addition to singing the Mexican boleros, rancheras, and corridos of her sheep-ranching childhood, Lara also composes her own style of music in both English and Spanish. Through a combination of storytelling and songs both playful and sincere, Lara draws on her rural New Mexican roots and her urban experiences across the U.S. and abroad as she sings about love, loss, a sense of place, and her own connection to the land. The local singer/songwriter, has written the "Albuquerque Song" for the party, it will be streamed on Tuesday, April 20, 2021 at 7 p.m. on Facebook and One ABQ Media's YouTube. 
 Lone Piñon is a New Mexican string band whose music celebrates the integrity and complexity of our region's cultural roots. With fiddles, upright bass, accordions, guitars, and harmony vocals, they play a wide spectrum of the traditional acoustic music that is at home in New Mexico. Enjoy a virtual concert performed by the band as they play from the Farmhouse at the ABQ BioPark Heritage Farm. Watch with us on Friday, April 16 at 7 p.m. on Facebook and One ABQ Media's YouTube.
Party Local
Shop for party gifts at local businesses. Participating stores will be offering shoppers discounts and special bargains for supporting Albuquerque's Birthday Celebration. 
Support local! Participating businesses in Old Town will be offering special discounts or free merchandise with your purchase. Enjoy 10% off of your purchase at Blackbird Coffeehouse, Raven Blues Café, Dancing Crow Gallery. Rubber Tomakawk ROCSart is offering a 20% discount of purchases over $300. Stop by Steve's Ice Cream & Java on Romero St. where iced coffee and espresso drinks are buy one, get the second half price.
Everyone likes freebies! Get a free art magnet with any purchase from David Behrens Gallery, a free ABQ sticker when you spend $15 at Collected Hands Studio, and a free handmade gift with any purchase from Sew Minimal. 
Take a tour! ABQ Tours: History & Ghost Tours of Old Town is running birthday specials. Take advantage of $10 birthday prices on Sundays, April 11, 18, & 25, normally $30. Enter code: ABQ315BDAY at checkout. 
Treasure House Books & Gifts will feature a virtual book event every evening from April 10 through April 25, with recorded interviews and book readings by Albuquerque authors premiering at 6:30 p.m. on their Facebook page. Check out their virtual event schedule. 
Dazzling Displays
Local artists have teamed up with businesses to create custom installations to add to the party. Check out these talented individual's work as they decorate businesses along Central Ave. with Albuquerque in mind. 
Frenchish will be displaying an art installation by Linden Mueller. Look out for art by Andrew Fearnside in the window of Retail Therapy. Noé Barnett is adding the windows of Slice Parlor to locations of where you can see his work. Off Broadway Vintage window displays never disappoint, and you can thank Christopher MacQueen for his contributions. Artist, Taylor Hedum, will add his work to Empire Board Game Library. Linden Mueller's art installation can also be seen at Ooh! Aah! Jewelry. Remedy Day Spa will display the art installation of Casey Warr. Craft Hair Studio and Farina Alto Pizzeria & Wine Bar will host the work of Jennifer Vasher. 
After Party
Once the sun goes down, the lights come on and the after party begins. We'll give you the inside scoop on who is illuminating and who is pouring special birthday drinks in Albuquerque for the two-week long celebration.
 Electric Playhouse will be showing off their digital art skills around our City. Mark your calendar and watch as a laser show will projected on a variety of establishments throughout the celebration. The projection show will glow at each location from 7:30-9 p.m. each of the nights below. 
The Historic KiMo Theatre will illuminate its corner of Route 66 with a colorful display of birthday lights.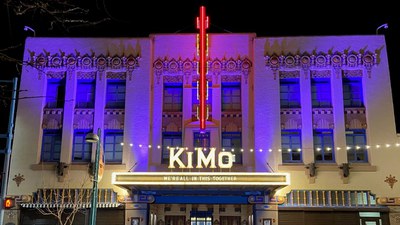 The facade of the building will glow with pride for Albuquerque's 315th nightly from Saturday, April 10 through Sunday April 25, 2021. 
Boxing Bear Brewing Co. has created a special brew just for the occasion. Please welcome The Bear-queño IPA to the menu. Starting Saturday, April 10 the Indian Pale Ale will be offered on draft and in cans at their three Albuquerque taproom locations. Cheers to ABQ! 
This birthday beer is not currently available for crowler or growler fills. 
Safe House Distilling Co. has created a signature cocktail to add to the City's festivities.
Order a Para Las Burque and enjoy this one-of-a-kind drink with sesame oil washed Lock Pick Gin, hibiscus rose and ginger syrup, lime juice and a pinch of salt. This scrumptious adult beverage is available throughout the month of April. Salud Para Las Burque!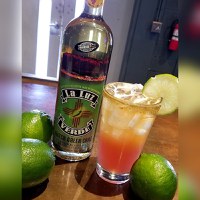 Left Turn Distilling has created a truly unique cocktail to celebrate Albuquerque's 315 birthday! The Pale a Guey With Me mixed drink features Left Turn's La Luz Green Chile Vodka, lime and pomegranate juice, house-made simple syrup, bitters and is topped with Palmer's Pale Ale. For extra flavor the drink has a green chile sale rim. This drink is exploding with flavor! Enjoy this drink in their taproom throughout April and remember to shop on their online store. Cheers!
Connect
Find us on social media to follow the party.
Thank you to our Sponsors!