PEG Access
Information on PEG ACCESS in Albuquerque.
Management and technical duties associated with the PEG channels will now be administered by the Media Resources Division of the Department of Arts & Culture.
Watch Your Local Access Channels below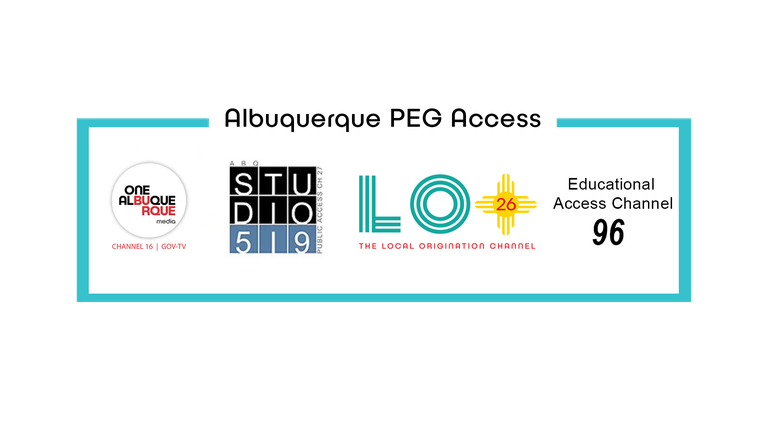 One Albuquerque Media (GOV TV)
Studio 519
Local Origination Channel 26
Educational Access Channel
Brief History:
In the early 70s, there was a need identified nationally to offer everyday citizens access to putting their diverse ideas and diverse communities on television. The federal Cable Communications Policy Act (1984) authorizes local governments to require cable companies set aside channels for local use as a condition of the companies' use of the public rights-of-way for their infrastructure (the "franchise authority").  These are commonly referred to as PEG channels because they are dedicated to the local community's use for public, educational and governmental purposes.
Public Access channels are available for use by the general public. The City of Albuquerque is committed to provide a vehicle for the airing of locally produced programming, created by a diverse variety of individuals, groups, and organizations within our community. This programming is non-commercial in nature, and the producer has full creative and editorial control.
Educational Access channels are used for productions designed to educate the public. Other programs on this channel include activities of schools or colleges, fully televised courses of instruction, and other programs of educational value to the community.
Government Access channels are used for government-related programming. GOV TV provides gavel-to-gavel coverage of government meetings each month, including the Albuquerque City Council, Bernalillo County Commission, Albuquerque Bernalillo County Water Utility Authority and the Police Oversight Commission. GOV TV staff produces shows about government news and events.
Moving Forward:
The Department of Arts & History has managed these PEG channels in the past and again welcomes the opportunity to carry out a new vision for truly achieving the mission of delivering diverse content to diverse audiences. The cable operator exercises little control over the content on these channels, which are used for a wide variety of programming, including but not limited to public meetings, delivery of instructional material, and student-produced television programs. Under the previous structure, only one entity was contracted to provide content for each channel. A recent restructuring of the administration and content submission process will allow multiple contractors to create and provide diverse, quality content to the channels. It's a move that embraces equity and inclusion in our community. These changes will allow a wide-ranging lineup of programming to reach larger and more diverse audiences. The management and technical duties associated with the PEG channels will now be administered by GOV TV 16, the only local government access cable television channel in Albuquerque and Bernalillo County, and a division of the Department of Arts & Culture.
The city is formalizing its efforts to build this new structure and new programs offering a permanent home for the voices in our community, as well as expand partnerships that will bring new educational and professional opportunities.
2021 Virtual Visionaries Content Call
In a continued effort to support the creative economy, the City of Albuquerque is looking for Virtual Visionaries to create content for its Public Access Channels. The City's Department of Arts & Culture is inviting creative professionals to submit pitches for engaging, original, and creative video content that is ready-to-air and stream on Public Access channels, social media, and other digital platforms. 
The requested categories are Resilience and Recovery; Place; Day-in-the-life-of; and Learning & Improving. Preference will be given to creative content creators that propose projects based around these categories. Pitches can be submitted at 
https://coacommunityevents.wufoo.com/forms/zxa10bb14maopg/
.
Limited projects will be approved. Qualified applicants should adhere to current State Health Orders. This opportunity is open to Albuquerque-area creatives, with a preference for individuals or organizations based in Albuquerque full-time. Awarded stipends ranging from $500 to $2,500 will be awarded to content creators and media makers. Content should be broadcast-ready, edited and complete final versions of programs that are 15 to 60 minutes in length. By submitting a proposal, applicants agree to allow the City of Albuquerque to use their content as seen fit as it will become the City's property.
The deadline is Tuesday, August 31, 2021 to submit proposals.
Category 1 - Resilience and Recovery:
Documentary-style visual storytelling that promotes a good cause, tells the story of hard work and/or, how and what people/groups are doing to recover from the pandemic.
Category 2 - Place:
Understanding and taking care of our places, why our "place" is important, biggest challenges we face and how to overcome them, including unique city experiences as a walk through, or a behind-the-scenes experience or back stories.
Category 3 - Day-in-the-life-of:
Storytelling, of people, places, groups, etc. on what the day or week may look like exploring all the minor and major details of what makes for each story.
Category 4 Learning & Improving:
Lessons, explanation or storytelling of how to improve or learn a new skill. (ie yoga, self-defense, exercise, music lessons, dance, computer, financial literacy, cooking, mechanics, or DIY).