PEG Access
Information on PEG ACCESS in Albuquerque.
Management and technical duties associated with the PEG channels will now be administered by the Media Resources Division of the Department of Arts & Culture.
Watch Your Local Access Channels below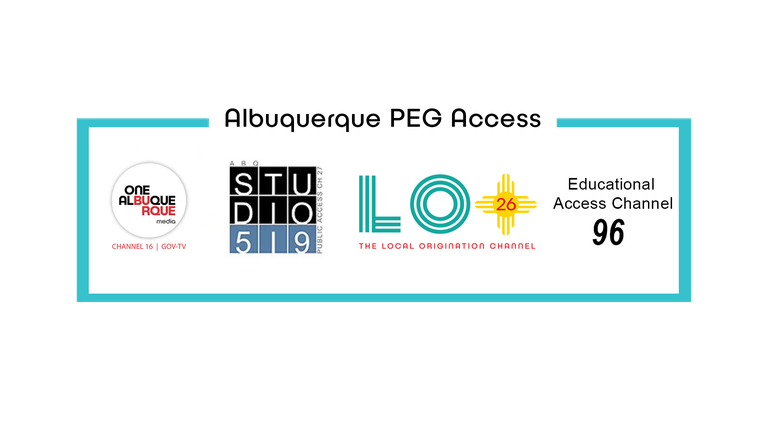 One Albuquerque Media (GOV TV)
Studio 519
Local Origination Channel 26
Educational Access Channel
Brief History:
In the early 70s, there was a need identified nationally to offer everyday citizens access to putting their diverse ideas and diverse communities on television. The federal Cable Communications Policy Act (1984) authorizes local governments to require cable companies set aside channels for local use as a condition of the companies' use of the public rights-of-way for their infrastructure (the "franchise authority").  These are commonly referred to as PEG channels because they are dedicated to the local community's use for public, educational and governmental purposes.
Public Access channels are available for use by the general public. The City of Albuquerque is committed to provide a vehicle for the airing of locally produced programming, created by a diverse variety of individuals, groups, and organizations within our community. This programming is non-commercial in nature, and the producer has full creative and editorial control.
Educational Access channels are used for productions designed to educate the public. Other programs on this channel include activities of schools or colleges, fully televised courses of instruction, and other programs of educational value to the community.
Government Access channels are used for government-related programming. GOV TV provides gavel-to-gavel coverage of government meetings each month, including the Albuquerque City Council, Bernalillo County Commission, Albuquerque Bernalillo County Water Utility Authority and the Police Oversight Commission. GOV TV staff produces shows about government news and events.
Moving Forward:
The Department of Arts & History has managed these PEG channels in the past and again welcomes the opportunity to carry out a new vision for truly achieving the mission of delivering diverse content to diverse audiences. The cable operator exercises little control over the content on these channels, which are used for a wide variety of programming, including but not limited to public meetings, delivery of instructional material, and student-produced television programs. Under the previous structure, only one entity was contracted to provide content for each channel. A recent restructuring of the administration and content submission process will allow multiple contractors to create and provide diverse, quality content to the channels. It's a move that embraces equity and inclusion in our community. These changes will allow a wide-ranging lineup of programming to reach larger and more diverse audiences. The management and technical duties associated with the PEG channels will now be administered by GOV TV 16, the only local government access cable television channel in Albuquerque and Bernalillo County, and a division of the Department of Arts & Culture.
The city is formalizing its efforts to build this new structure and new programs offering a permanent home for the voices in our community, as well as expand partnerships that will bring new educational and professional opportunities.
2021 Virtual Visionaries Project:
Earlier this year, the City of Albuquerque called for local creative professionals to submit pitches for engaging, original, and creative video content that would be ready-to-air and stream on the City's Public Access channels, social media, and other digital platforms. As a result, 17 content producers or "Virtual Visionaries," were selected and awarded $38,500 from the Department of Arts & Culture.
Video projects range from a look at the local culinary scene to hidden outdoor adventures, from the beloved bosque to haunted spaces, and everything in between. "Virtual Visionaries 2021" showcasing Albuquerque and New Mexico's unique art, music, culture, food, beer, outdoors, places, and people will premiere each Saturday from April 24 through May 22 on Comcast Channel 26, The Local Origination Channel Youtube page and on the the Local Origination channel live stream above.
Virtual Visionaries Programming Schedule:
April 24, 2021 
6pm - Enchanted Foods of ABQ by Sopapillla Productions. A close look at several local, unique and ABQcentric food establishments hosted by Keith Allen and Felicia Masias. 
7:30pm - Cuentos de las Sombras by Blackout and Quarantine Productions in association with Lila Martinez. A production with puppets and animation telling our unique stories of New Mexico. 
8pm - On the Road with Aretha by John Nichols is a mix of local musicians recorded live. Including Slide Guitarist Chris Dracup, Singer/Songwriter Manirah, ABQ Rock Band Prism Bitch, Singer/Songwriter Isaac Aragon, Vocalist/Guitarist Kevin Cummings Jr. & Dog, Trumpeter/Songwriter Ryan Montano, Vocalist Vicente Griego and Bassist Tim Lefevbre
May 1, 2021
6pm - Mi Cuerpo La Tierra Mi Sangre El Rio by Spanish Broom takes us on a distinctive trip to Our beloved Bosque. A celebration of our Indigenous people through song and dance. 
6:25pm - NM Entertainment TV by Teresa Robinson gives us a notable perspective on NM music, television and film in a magazine style format. 
6:55pm - Doc-u-"moments" by Sense of Wonder and New Mexico Arts Imaginative Collection courtesy of Karen Cunningham. Storytelling with words, picture and sound.  
8 pm - A New Mexico Minute by Evan Pierce shows us art by artist. A walk through how to create some unique pieces of art.  A woodworker, a macramé demo and a metalworking expert showing how to create some one of a kind pieces.   
8:30 pm - Storytime with Morpheus by Bianca Starr is an mix of original music and storytelling. Piano and stories for kids of all ages.
May 8, 2021
6pm - Route 66 by Dan Gutierrez gives us a unique history of Route 66 and its influences on Albuquerque. From cars, food, art and people on Central cutting through Albuquerque. 
6:25pm - La Vida Buena- Viva ABQ by Julian Nunez takes us on a culinary look at Albuquerque and a few of its well-known eateries, local beer and farm to table. Los-Foodies is a Magazine style program.
7 pm - Elevation by Dan Otero is a show that takes you rock climbing, repelling and on an adventure to nooks and crannies in caves and places most New Mexicans could never find. 
8pm - The Haunting History of the Whittlesey House by Zachary Kluckman gives us a behind the scenes look into the house also known as the Albuquerque Press Club. There are tales of the house being haunted and the producer explores some of those tales. 
May 15, 2021
6pm - Kromatopher's Count by Exavier Viramontez and the Troubador Beat Lab take you on a lesson on how to record music. Six- 30 minute lessons on how to start with a beat and build a song from scratch.