School and Youth Group Field Trips
The ABQ BioPark is a fun and dynamic place for students to have field experiences and learn outside the classroom.
Field Trip Links
Staff Led Adventures
Order lunch
Make your visit great
Staff-Led Adventures
BioPark educators will lead your group through your choice of field trips at the Zoo, Botanic Garden or Tingley Beach. Programs vary in topic and may be custom designed for students' grade level and class size.
Cost is $75 for 30 minutes or $100 for 45-minute programming. Entry tickets are not included and must be purchased separately here. 
Learn More: Staff-Led Adventures
Self-Guided Field Trips
School and youth group self-guided field trips are available year-round via either our school season option or our summer season option. Prices vary depending upon season.
School season: September 2-May 30
Cost for self-guided field trips is $1.50 per student and $3 for accompanying adults.
Summer Season: May 31-September 1
Cost for self-guided field trips is $3 per student and $3 for accompanying adults.
Please see Summer Youth Group Visits.
Reservations are required. Book and pay now at artsandculture.cabq.gov or request a date by filling out a Self-Guided Field Trip Request Form.
Eligible Groups
Public and private schools
Day care centers following a preschool curriculum
Home schools and home school co-ops with a Notification of Home School form
Youth groups
Schools or programs that serve adult students with developmental or other disabilities
University classes
Additional Information
Groups must consist of at least 10 students and one adult. At least one chaperone for every 10 students is required.
School and Youth Group Admission Fees for Self-Guided Field Trips
Tickets are for Zoo OR Aquarium & Garden.
Student (pre K-12): $1.50
Adult: $3


There must be at least one adult chaperone per 10 students.
The number of adult chaperones may not exceed the number of students. Additional adults will need to purchase a full price ticket.
Call if you have students who require additional accommodations.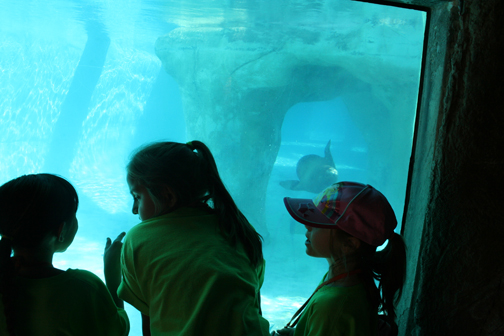 A single payment for the group is preferred in advance. We accept purchase orders, Visa, MasterCard, American Express and Discover cards.
Reservations Required
Reservations must be made at least two weeks in advance to receive the group discount. School field trips are scheduled only on weekdays.
Pay now: book your field trip at artsandculture.cabq.gov.
Pay later: complete the Self-Guided Field Trip Request Form. Once your date is reserved, you will receive a confirmation email.
Cancelations
To cancel or reschedule a field trip, call 311 at least 72 hours before your scheduled visit.