José Guadalupe Posada: Legendary Printmaker of Mexico
On view at Albuquerque Museum. This exhibition recognizes Posada's cultural contributions, which reflect the spirit of Mexican identity in his time and ours and imparts a universal perspective extending well beyond the borders of his native Mexico
José Guadalupe Posada, Calavera Bolshevik, ca. 1910, acid etching, The Posada Art Foundation
On View
December 19, 2020–May 23, 2021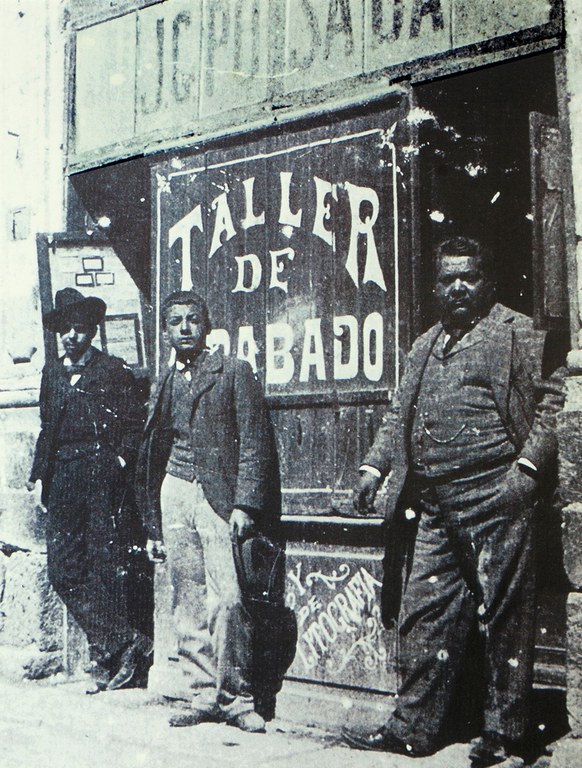 Unidentified Photographer, Posada's Workshop (Posada on the right), ca. 1900, The Posada Art Foundation
The exhibition was organized by the Catalina Island Museum in association with the Posada Art Foundation. Museum tour organized by Landau Traveling Exhibitions, Los Angeles, CA.
Details subject to change.

Posada: Printmaker for the People. January 10, 2021 lecture by Dr. Josie Lopez
One of Mexico's most celebrated artists was a printmaker, a common man who died a pauper, his body interred in an unmarked grave. Yet, José Guadalupe Posada reached his countrymen through perhaps more than 20,000 images documenting nearly every aspect of life. Posada's satirical skeletons, or calaveras, have become the most iconic and celebrated of his work.
The exhibition recognizes Posada's cultural contributions, which reflect the spirit of Mexican identity in his time and imparts a universal perspective extending well beyond the borders of his native Mexico.
As Mexico modernized in the late 19th century, its capital bustled with published materials to satisfy the growing metropolis and its budding middle class, intelligentsias, and thousands of new residents relocating from the countryside. Employed by the visionary publisher Antonio Vanegas Arroyo, Posada created expressive images reflecting and informing the transitioning culture of Mexico City's residents.
"Posada engaged with the visual language of the time," says Curator of Art Josie Lopez, Ph.D. "Modernism was developing. Mexico City was becoming cosmopolitan, on par with Paris and London."
Posada's art lampooned politicians, recorded vivid images of the Mexican Revolution, inspired Mexico's famed Taller Grafica Popular to use art for social causes, helped the Cuban Revolution succeed, adorned concert tickets for the Grateful Dead, and today leaps to life annually as the skeletal images seen during Day of the Dead, so popular now there is even a Disney and Pixar film, Coco, that celebrates the holiday. Yet Posada's influence is rarely associated with his name, his true story virtually unknown.
In addition to José Guadalupe Posada: Legendary Printmaker of Mexico, Albuquerque Museum will present two other exhibitions this Winter that further the artistic narrative of Mexico: Luís Jiménez: Motion and Emotion (which opens January 16, 2021) and Frida Kahlo, Diego Rivera and Mexican Modernism (which opens February 6, 2021). Together, they provide an opportunity to explore how Mexican art responded to and shaped the political and creative identity of Mexico. Each of these exhibitions include works by contemporary artists from the United States and Mexico such as Luís Jiménez, Esther Hernandez, and others who were looking to Posada and the Mexican modernists as groundbreaking examples who reshaped art and culture in a particular time and place.
Exhibition text will be presented in both Spanish and English.
cabq.gov/posada