Marilyn Y. Scott, September 11 Weaving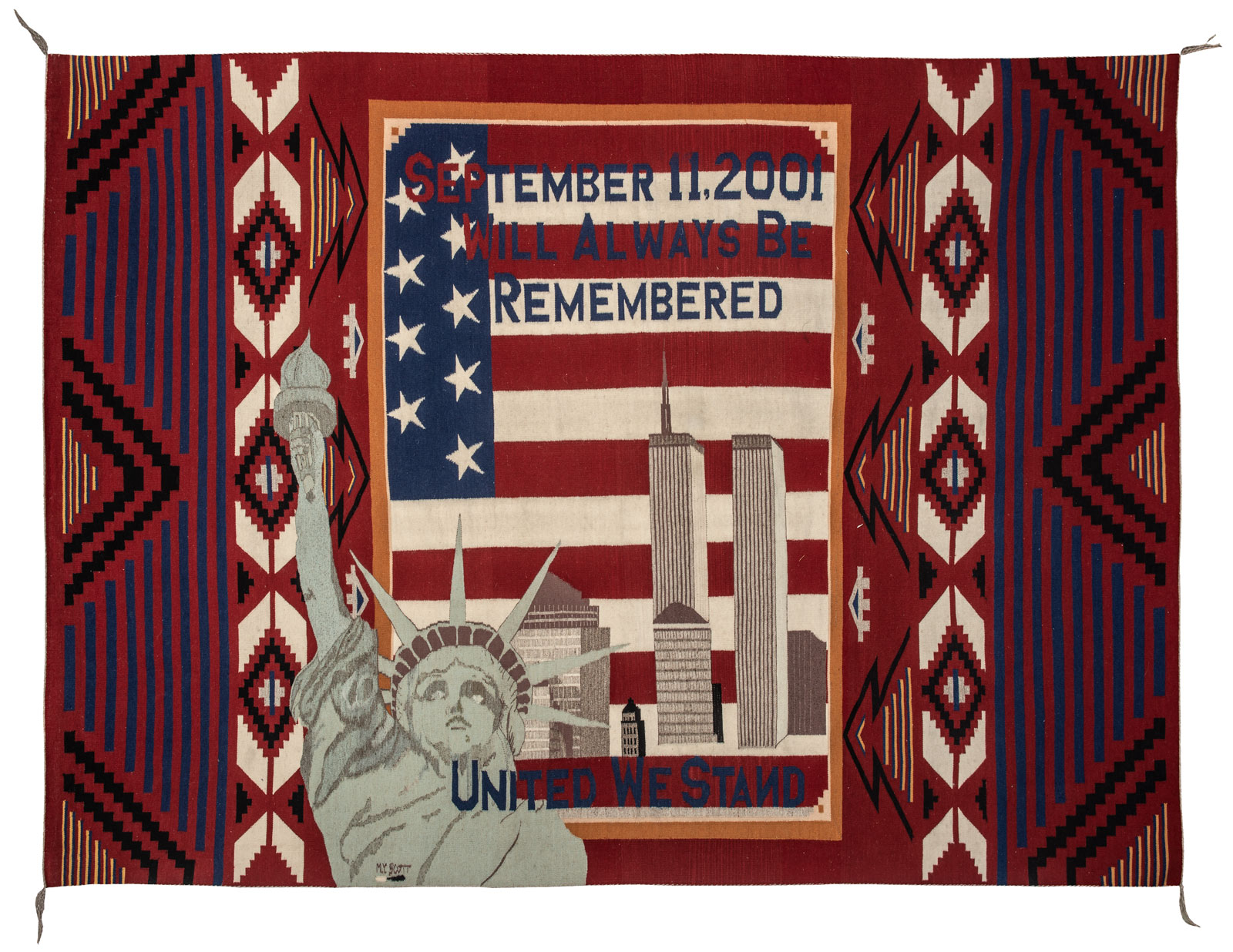 Marilyn Y. Scott
Diné
born Blue Canyon, Arizona 1983; lives Tuba City, Arizona
September 11 Weaving
began November 2001, completed 2002
aniline dye on wool
87 ¼" x 119" x ¼"
Albuquerque Museum, museum purchase
PC2021.39.1
The weaving is currently on view at Albuquerque Museum. Plan your visit.
On September 11, 2001, nineteen terrorists carried out coordinated and deadly assaults on four locations in the United States, including two in New York City. Ultimately, they took nearly 3,000 lives while injuring millions of others. The social and economic consequences of these attacks inflicted great damage both domestically and abroad.
As Marilyn Scott and her family watched the United States reeling in the aftermath of these tragic events, her son designed this weaving to commemorate what had been lost. Over several months, Scott wove this textile which simultaneously maintains the traditional Diné weaving tradition and breaks from it. Scott's extremely fine weave, as well as her use of figures, red dyed wool, and geometric design elements are in keeping with the tradition.
Her use of the iconic symbols in the center – the flag of the United States, Lady Liberty, and the New York City skyline – show a departure from traditional Diné weaving where the appearance of national symbols is uncommon. The vertical stripes found toward the edges of the weaving depart from the traditional horizontal pattern, but are reminiscent of the traditional "Chief's Blanket" design, common after the 1860s.
The overall message of this weaving is one of unity and connects the Diné and wider United States communities in a powerful way. As we remember what that day twenty years ago meant, how do we reflect on what it means to be a citizen in a nation?