The Printer's Proof: Artist and Printer Collaborations
The Printer's Proof: Artist and Printer Collaborations coming to Albuquerque Museum February 19 - May 15, 2022
This exhibition was curated by Albuquerque Museum. 
On View
February 19–May 15, 2022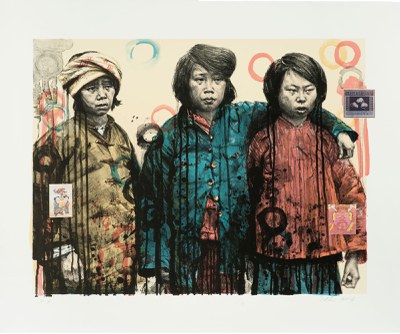 Hung Liu (born 1948 Changchun, People's Republic, China; lives Oakland, California), Sisters in Arms I, 2003, 6 color lithograph with chine collé of chinese designs, Albuquerque Museum, gift of Marjorie Devon, PC2014.59.1
The Printer's Proof: Artist and Printer Collaborations focuses on the collaborative process of printmaking and celebrates several printers who are or have been based in New Mexico as well as the artists they have worked with. The six printers featured are: Marina Ancona, Robert Arber, Steve Britko, Michael Costello, Bill Lagattuta, and Jennifer Lynch. Artist featured in the exhibition will include Donald Judd, Harmony Hammond, Jim Dine, Hung Liu, and many more. The Printer's Proof will examine a variety of printing techniques and will explore how the final print is often shaped by the nature of the collaborative process between artist and printer.
Details subject to change.