TXT2RIDE
Find when the next regularly-scheduled buses are due at your stop.
Map: Bus Routes & STOP Numbers
About TXT2RIDE (27433)
The TXT2RIDE service allows passengers to quickly access ABQ RIDE schedule information.
All you need is a phone capable of text messaging, an ABQ RIDE BUS STOP number and an ABQ RIDE route number. Every bus stop in the ABQ RIDE system will be identified with a unique BUS STOP number sign puck.
See the map of routes with installed BUS STOP numbers.
How To: Request Schedule Information
Step 1: Compose a text message to: 27433 (2-RIDE)
Step 2: Enter: the 4-digit bus STOP number followed by a space and the route number.
Text Example
To: 27433
Text message: 4439 66
Step 3: Press "Send"
You will receive a text message response with the next two scheduled departure times for the bus route and bus stop selected.
If the bus stop serves more than one bus route, you need to compose a separate text message for each route.
Message and Data Rates May Apply
Terms and Conditions and Privacy Statement
QR Code
Use your QR Code reader to scan this code to automatically compose a text message.

Finding a Bus STOP Number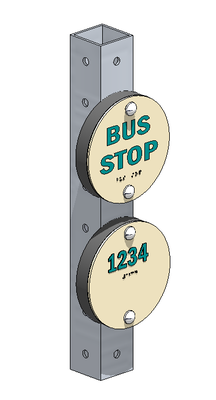 Bus STOP Numbers are available at ABQ RIDE bus stop pucks and online.
Bus STOP Number: Sign Pucks
To find the bus STOP number, look for the round puck with a tactile blue 4-digit number posted on the bus stop pole four to five feet above the ground.
Most pucks will face the sidewalk.
The bus STOP number also appears in Type II Braille below the tactile number.
See the map of routes that have bus STOP number pucks installed.
Bus STOP Number: Online
Option 1: Using ABQ RIDE "Plan Your Ride" Trip Planner.
Open Trip Planner
Open Schedules
Select a bus route
Click "Get Route"
Select a direction
Click "Show All Stops"
Find the bus STOP number
Option 2: Using Google Maps
Zoom in to see bus stop icons; click on a bus stop icon to reveal the bus STOP number

If multiple bus routes appear, click on a bus route
If multiple directions or endpoints appear, click on a bus route
Note for the Google Maps Application for Android Mobile Devices and iOS: Selecting a bus stop icon will not reveal bus STOP numbers, only schedule data.