Nuisance Weed Removal
Learn more about your responsibility as a property owner to remove weeds from your property.
Report Weeds & Litter
See weeds & litter in your neighborhood?
Why is Nuisance Weed Removal Important?
Yards, sidewalks, alleys and vacant lots overgrown with tall weeds are not only unsightly, but they can aggravate allergies, create tumbleweeds and become a fire hazard. The Code Enforcement Division of the Planning Department gears up annually to battle weeds all across Albuquerque.
The most prominent time for weed removal enforcement is from May through October (depending on the weather). Each year thousands of violation notices are sent to property owners with weed violations. In an effort to reduce that number, the Code Enforcement Division sends annual reminder cards to anyone who received a violation in the previous year. Plus, division staff also provides education to residents about what their responsibilities are when it comes to weed removal.
Our hope is that through education, we can reduce the number of violations that Albuquerque property owners receive.
We ask that you please be considerate of your neighbors and keep your property clears of weeds and debris. If you can help a friend or neighbor in need, please do so. If you are going to be out of town for an extended period of time make arrangements to have someone take care of your property. Let's work together to fight the battle against weeds and keep our city an enchanted treasure to share with locals and tourists alike.
The Ordinance
The Weed, Litter and Snow Removal Ordinance (§ 9-8-1) is intended to promote general health, safety and welfare for Albuquerque by prohibiting the maintenance or accumulation of plants determined to be of major allergenic significance, those which constitute a fire hazard when wind collected, or those which otherwise present a hazard or nuisance to inhabitants of the city. Further, the ordinance is intended to promote the growth of native and other grasses/plants whose root structures tend to aid in stabilizing the soil and reducing dust.
Because this ordinance is law with enforcement that can include court appearances, fines and even jail time, it's vital that you do not ignore any notices of violation that you may receive. If you do receive a violation notice and need more time to tend to the violation or there are circumstances you need to discuss, please call the Code Enforcement Inspector listed at the bottom of the notice. The inspector needs to speak with you in order to make accommodations for your request. If you feel you have received a violation notice in error, please call and the situation can be discussed with the inspector.
The Rules
Let's get to the heart of the ordinance so you know what your responsibilities are.
Remove any weeds with a height or width of more than 4 inches from the following areas:

The front, rear or side yard of your property
From the property line all the way to the curb, including the sidewalk. If you don't have a curb adjacent to your property, then the area 10ft outside of your property line
From your property line to the middle of the alley adjacent to your property

The following plants are considered "weeds" per the ordinance: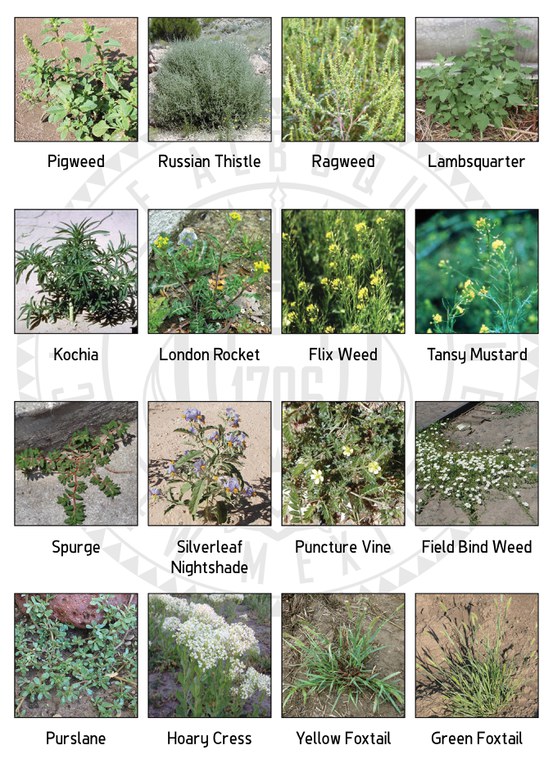 The approved methods of removal per the ordinance are:

Mowing
Cutting
Digging/pulling
Or other methods designed to remove the weeds but not disturb other vegetation or unnecessarily disturb the soil or create fugitive dust
Weeds: Frequently Asked Questions
Answers to frequently asked questions about weeds.
What is a weed violation?
Weeds, as defined by the ordinance, which have grown to a height or width in excess of four inches on any commercial or residential property within the City limits.
How do I report a nuisance weed violation?
A complaint about a nuisance weed violation can be reported by calling 311 or reporting it online.
If I have an alley behind my home, am I responsible for that area maintenance?
Yes, the City ordinance states that: It shall be unlawful for any owner of any occupied or unoccupied lot or tract of land within the city to permit or maintain the growth or accumulation of weeds on any such lot or tract of land, including the area located between the property line and the middle of the alley adjacent to the property.
I called a weed complaint into 311, or called the Code Enforcement Division directly about a complaint, and nothing has happened yet?
The process takes time from investigating the violation, notifying the property owner and then allowing time to correct the situation. On average, most weed removal complaints, where an inspector finds a violation, are resolved in one to four weeks. However, if court action is required, it could take several months. For information regarding a property update, call (505) 924-3450.
If a property is reported and weeds are cut but the property is once again in violation, do I need to report it again?
Yes, each violation is handled separately. Once a property has come back into compliance and removed the weeds, the case will be closed. A new case would need to be opened for each new violation.
Does the Code Enforcement Division and the ordinance enforce upon overgrown natural vegetation or other plants that I consider weeds?
No. The Code Enforcement Division can only enforce upon overgrowth of the weeds listed specifically in the ordinance. Other plants are not considered weeds per the ordinance, and hence we are not able to compel property owners to trim or remove them.
Is spraying part of the ordinance?
The ordinance in place does not require that weeds be sprayed, only that they be removed.
I have sprayed the weeds; do I still need to cut them?
Yes, once the spray has been applied let it work for 3-4 days and then cut/remove the weeds.
What happens if I don't cut my weeds?
Occupied properties found not to be in compliance with the Weed, Litter and Snow Removal Ordinance are issued a notice of violation with details on how to correct the issue. You will be granted a time period to come into compliance. If you do not come into compliance, you could receive a pre-criminal summons and granted another time period to come into compliance. If upon a second re-inspection, the property is still not in compliance we wll file a criminal complaint with Metropolitan Court and you will required to go before a judge. The judge can impose fines or even jail time. If your property is unoccupied/vacant, and the inspector finds a violation, we will issue a notice of violation and grant time for the property owner to come into compliance. If upon re-inspection, the property is not back in compliance, then the City can hire a contractor to cut the weeds for you and then place a lien on your property.
Who is responsible for clearing weeds and debris from medians, City Parks or City properties and trails?
Medians and most City properties are maintained by the Solid Waste Management Department.
Parks are maintained by the Parks and Recreation Department.
Trails are maintained by the trail owner. In some cases, it's the Parks and Recreation Department, where as other trails may belong to the Albuquerque Bernalillo County Water Utility Authority, civic groups or other organizations.
Resources