Cooking
Unattended cooking is the leading cause of home fires and home fire injuries in the U.S. When cooking, remember to keep an eye on the range.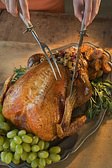 Fires and fire alarm activations can be caused by individuals using any type of cooking appliance, which includes: stoves, ovens, microwave ovens, toaster ovens, rice cookers, crock pots etc.
YOU can help prevent fires and fire alarm activations caused by cooking by following these fire safety prevention tips:
Never leave the cooking area unattended
If you have to leave the stove, microwave or other cooking appliance for any reason turn the appliance off.
Turn handles to the center of the stove to prevent spills
Have a lid handy to smother a pan fire
Use approved pot holders, not apron or towels
Avoid grease buildup on appliances and surrounding surfaces
Clean appliances regularly. Watch for grease overflows that can start fires.
Don't place towels, napkins or other paper products around the stove surface
Don't wear loose clothing
If You Have a Grease or Other Related Fire
NEVER TRY TO MOVE OR CARRY A PAN THAT IS ON FIRE (It is a common reaction to move or throw a burning pan into a sink. This often results in serious burns to individuals and can spread the fire)
Carefully turn the heat off and place a cover over the pan. Do not remove the lid until the pan has cooled down
Never use water on a grease fire. It will cause the fire to spread.
If the fire is small you may be able to extinguish it with the use of baking soda (Bicarbonate of soda). NEVER use baking powder, flour, starch or sugar.
If possible use an approved portable fire extinguisher to extinguish the fire.
Grilling FAQ's
Can I store and use a propane grill on my apartment balcony?
No. Gas-fired grills shall not be used on any balcony or under any overhanging portion or within 10 feet of any structure
Can I use my charcoal grill on my balcony?
Hibachi, gas-fired grills or similar devices used for cooking, heating or any other purpose shall not be used or kindled on any balcony. As or under any overhanging portion or within 10 feet of any structure.
Can I use my electric grill on my balcony?
Listed electric ranges and grills, or similar electrical apparatus are permitted.
Most Importantly... Be Prepared for a Fire!
One of the best ways to protect yourself and your family is to have a working smoke alarm that alerts you of a fire. A smoke alarm greatly reduces your chances of dying in a fire.
Make and practice a home fire escape plan and set a meeting place outside. Make sure everyone in your family knows at least two escape routes from their bedrooms.
Know how to correctly use your fire extinguisher. Call 911 immediately to report a fire emergency.
Turkey Fryer Fire Safety
The popularity of turkey fryers has grown in the U.S. in the past couple of years. For safety's sake, buy a fried turkey from a grocery store, specialty food store, or restaurant instead of frying it yourself. If you must fry one yourself, follow the safety tips below to prevent fires and burn injuries.
First read the manufacturer's instructions.
Place the turkey fryer on a level surface, in an open area away from homes, fences, sheds, and other structures that are combustible.
Never place the fryer on a wooden deck or porch or in a garage or carport.
Leave at least 2 feet between the fryer and the propane tank.
Keep the fryer in full view at all times.
Keep children and pets away from the fryer.
Check the oil temperature often. If you see smoke coming from the oil, turn off the gas right away.
Completely thaw and dry the turkey before frying. Adding a partially frozen or wet turkey to the pot makes the oil splatter a lot, causing a fire or explosion hazard.
Cover bare skin before adding or removing food from the fryer.
Raise and lower food slowly to avoid splattering or spilling oil.
Use the right amount of oil.
If the fryer catches fire, call 911 right away. Do not try to put it out with water.
Turkey Fryer Fire Facts
Cooking fires peak on Thanksgiving Day.
Between 1998 and 2005, the Consumer Product Safety Commission had 112 reports of fires or burns related to turkey fryers.
Most fires from turkey fryers occur while the oil is being heated, before the turkey is added.
Contact with hot oil can cause serious burns.