PulsePoint
Information about PulsePoint, a free CPR smartphone app.
Download the App
Download the PulsePoint Respond & PulsePoint AED Apps today at:
Remember to click "CPR" on the PulsePoint Respond app to receive cardiac arrest notifications.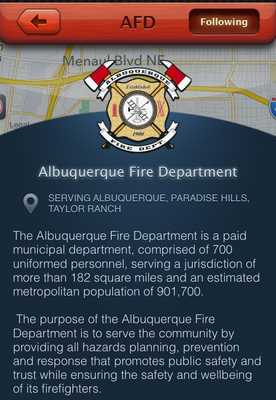 PulsePoint App
A free CPR smartphone app called PulsePoint is now available in Albuquerque's city limits.
This smartphone app uses sophisticated location-based services and notifies subscribers who have indicated they are CPR trained* that a sudden cardiac arrest event is nearby. The alert is triggered by our 9-1-1 center at the same time that Albuquerque Firefighter EMTs and paramedics are dispatched.
The app uses advanced GPS technology to notify subscribers within a quarter mile of a cardiac arrest event and where the closest automated external defibrillator (AED) is located.
AED App
When a cardiac emergency strikes, finding an Automated External Defibrillator (AED) can help save a life. But that takes knowing where AEDs are located.
Registering AEDs allows for the Albuquerque Fire Department to track the AED locations so that when an emergency occurs, responders and nearby citizens trained in CPR know where they're located.
FAQs: Pulse Point
View Frequently Asked Questions about Pulse Point
AED Registration
Businesses, schools, and other public sites with an AED are asked to register the AED on the AED app or visit our AED webpage to add it to our database.
Register AED's on the PulsePoint App
Register AEDs on the app using the + sign at the top right corner. Add the business/location name, the description of where the AED is located and add a photo.
*"CPR trained" can be knowing how to administer Hands-Only CPR (no rescue breaths) or traditional CPR (with rescue breaths).
Press Release
View the Albuquerque Fire Department news release.
Pulsepoint Videos