Operator and Dispatchers Honored for
On behalf of Mayor Richard J. Berry, Public Safety Director Darren White recognized three Friday's Heroes this week: a 911 Operator, an Albuquerque Police Department Dispatcher, and an Albuquerque Fire Department Dispatcher who worked together to identify the location of a six year old boy whose mother was experiencing a medical emergency.
The honorees are 911 Operator Kathi Kelley, Police Dispatcher Brianna Berged, and Fire Dispatcher Lieutenant Thomas Donahue. Each week Mayor Berry honors at least one public safety employee for going beyond the call of duty in performing their work.

On Jan. 14 at 12:15 A.M, the child, Ethan Bostillos, found his mother Veronica Lucero laying face down and unresponsive. Ethan thought his mother might be having a heart attack and immediately called 911 from the family's cell phone. However, Ethan was unable to communicate his full address to the operator.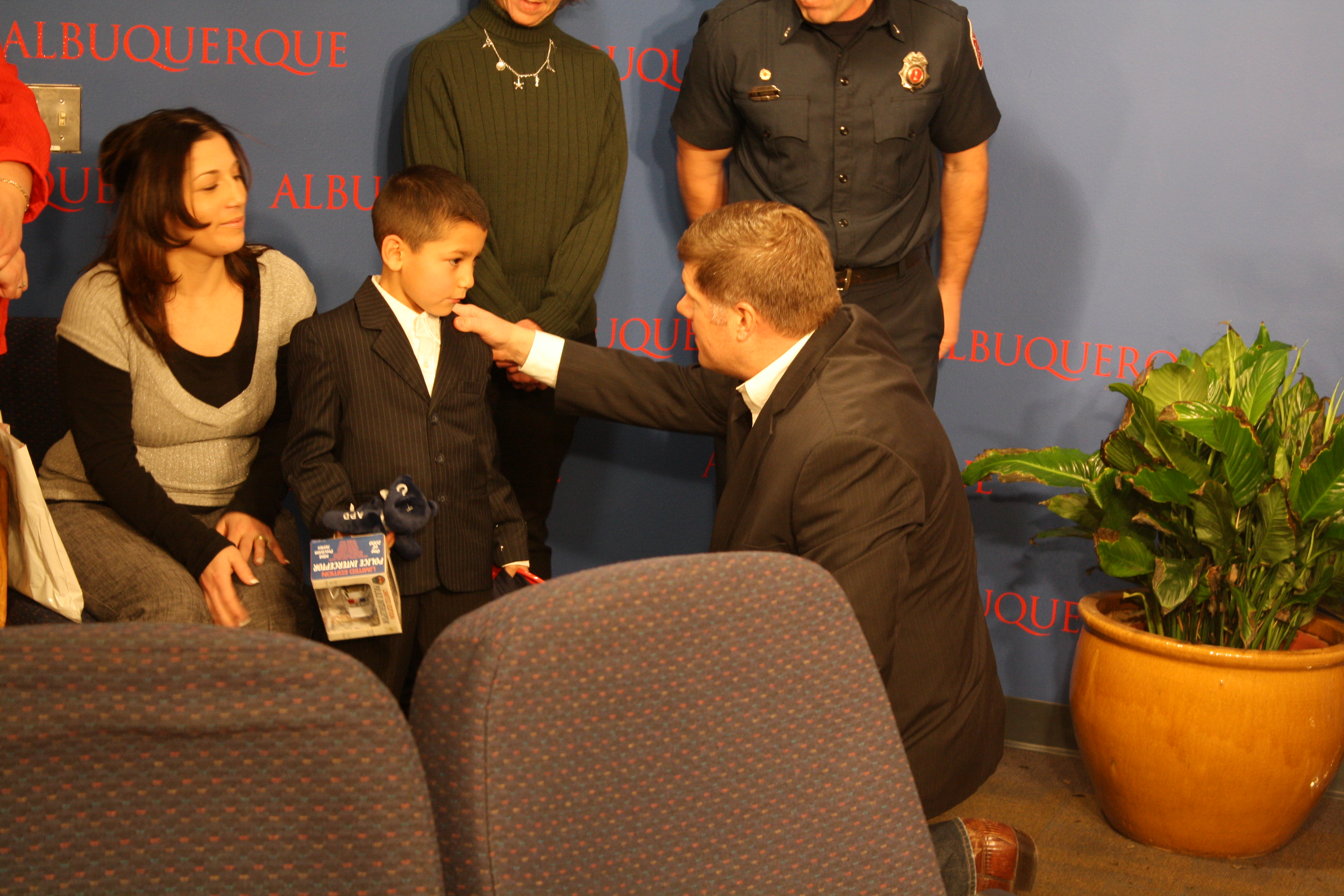 APD 911 Operator Kelley took the initial call and was the first to speak with Ethan. Kelley then connected the call with Lieutenant Donahue. Kelley explained that Ethan did not know where he lived. Kelley and Donahue kept Ethan on the line and helped him to remain calm for over ten minutes. They were able to get Ethan to provide descriptors of things outside the home that might help emergency responders to identify his specific location. Working with Dispatcher Berged, they researched several avenues in order to determine the location of the family's home, including rebidding the cell phone and calling Cricket to get the billing address. Dispatcher Berged transmitted the information to officers in the field as it was received.

Once the family's home address was established both dispatchers maintained communications with Ethan, directing him to flip the lights on and off to help paramedics locate the home. Thanks to the efforts of the telecommunicators, Albuquerque police, paramedics and a rescue unit located the young boy's home shortly after he initiated the phone call. Upon arrival, paramedics transported Lucero to the hospital for further treatment of a lung condition which caused her to collapse.

"It is particularly gratifying to honor our telecommunicators for the critical, lifesaving work they perform. They are often the unsung heroes in an emergency and they were clearly heroes to this little boy and his mom," said Director White.

Director White also gave special recognition to young Ethan for his efforts in recognizing his mother was in distress and contacting 911. Ethan was exceptionally calm and provided information to the operator which was instrumental in determining his location.
"This young man was very brave in his handling of what must have been a very scary situation. We believe Ethan is also a hero and we think his mom would probably agree," said Director White.