Fire Fighters Honored for Balloon Rescue
Mayor Richard J. Berry applauds three Albuquerque fire fighters for bringing four trapped balloonists to safety.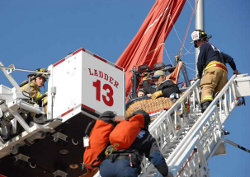 On March 26, Mayor Richard J. Berry honored three Albuquerque fire fighters for their heroic efforts to rescue four people trapped in the gondola of a balloon that had become entangled with a light pole 30 feet off the ground.
On March 21, 13 AFD units were dispatched to a high angle rescue at a park on Second Street SW. At that location, a hot air balloon became entangled with a light pole after experiencing heavy winds, trapping its occupants in a very perilous situation.
Upon arrival, Ladder 1 set up on the northeast side of the event. The Ladder Officer, at the tip of the ladder, made contact with the balloon passengers. Ladder 13, led by Upgraded Lt. Ortega, then set up on the southeast side and began rescue operations. Engine 13 set up a belay system with Ladder 1 and passengers were assisted to the platform by Upgraded Lt. Ortega and Fire Fighter McKinstry. Ladder 13 Driver Lucero was at the bottom of the ladder providing backup control of the platform. All four balloon passengers were escorted down to safety where they were evaluated on the ground by paramedics. It was determined that none of them had sustained injuries during the harrowing experience.
AFD personnel with the assistance of Albuquerque City Parks staff and PNM, removed the gondola from the pole.
"Once again, our fire fighters have shown that there is no task too daunting when it comes to the safety of our citizens," stated Mayor Berry. "They braved dangerous conditions to rescue the trapped passengers and did so without hesitation."