City to Build Capacity, Lower Call Time with Southwest Public Safety Center
Phase I will include Fire Station 23 with additional improvements to come.
Press release from Albuquerque Fire Rescue.
Today, Mayor Keller joined City Councilor Klarissa Peña, State Senator Michael Padilla, AFR Chief Gene Gallegos, APD Chief Harold Medina, and ACS Director Mariela Ruiz-Angel in announcing a future public safety center in southwest Albuquerque. The City purchased the 6-acre property at Amole Mesa and 98ththat will house the center in fall 2022. Phase 1 of the project includes the construction of Fire Station 23 and is fully funded. The City is seeking $18 million from the state legislature to build additional public safety facilities at the center.
"As our city grows, our public safety response must grow with it to meet the needs of all Burqueños," said Mayor Keller. "This investment in public safety for our growing southwest Albuquerque will help first responders provide quicker service to folks in times of need."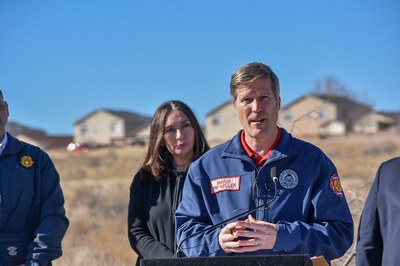 AFR will break ground on Fire Station 23 later this year. Fire & Rescue aims to reach all members of the community in four minutes or less in the event of an emergency. The new fire station should make that a reality for almost every resident in the area. In addition to the fire station, future phases of the project may include other public safety facilities to increase resources in southwest Albuquerque. Funding from the state could allow for these expansions.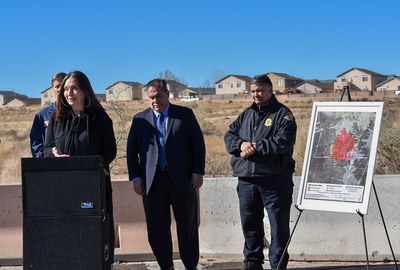 "I'm excited to bring valuable public safety services to the residents of this growing area," said Councilor Peña. "With the new station, we will be able to reach more people with quicker response times and we will be prepared for continued growth in this area of Albuquerque."
"We strive to reach all corners of our community in a timely manner," said Fire Chief Gene Gallegos. "The new station will add the additional units we need to better serve the community and drastically lower response times for people in this area."
"Albuquerque Community Safety looks forward to becoming an integral part of this new resource for Southwest Albuquerque," said ACS Director, Mariela Ruiz-Angel. "All corners of our city should have a dedicated ACS presence."
"This is a huge day for the southwest mesa," said State Senator Michael Padilla. "This is the culmination of a lot of growth in Southwest Albuquerque, and we need these services badly."