Albuquerque Museum to Acquire New Works from Living Local Artists
$100,000 investment will address diversity gaps in the Museum's art collection.
June 30, 2021
Today, the City of Albuquerque's Department of Arts & Culture and Albuquerque Museum announced a $100,000 investment in fiscal year 2022 for acquisitions from living Albuquerque artists to address diversity gaps in the Museum's art collection.

In 2020, the Albuquerque Museum's art curatorial team evaluated the Museum's art collections and used data-driven analysis to plan for the future of acquisitions at Albuquerque Museum. The data, combined with community input and suggestions made by various community and arts groups, will inform decisions in future investments.

"A museum's permanent collection is a legacy for future generations," said Mayor Tim Keller. "While the Albuquerque Museum brings world class exhibitions to our city, its heart is in celebrating the genius of our own city and state. With this investment, the Museum can purchase work directly from living artists in Albuquerque, increasing the diversity of those represented, and fundamentally improve the collection."

"Museums all over the world are grappling with their collections," says Albuquerque Museum Head Curator Josie M. Lopez, Ph.D. "As educational organizations, we have the unique responsibility of being stewards of the collection, as well as interpreting works in a way that engages our audiences, promotes inclusion, and tells the important stories of art and artists and our city."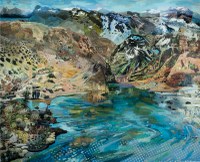 Lopez worked with Albuquerque artist Karsten Creightney to acquire an important work as part of a plan to include contemporary voices in the current collection. Creightney's mixed media painting, Black Hills, was purchased directly from the artist in 2020 using public and private funds and is currently on view in Common Ground: Art of New Mexico.
Based on the analysis derived from the study, Albuquerque Museum has an opportunity to ensure that artists in its collection represent the diverse makeup of our city, state, and region. Funding from the City of Albuquerque's Department of Arts & Culture will allow the Museum to build its collection with a focus on Latina artists, contemporary Native American artists, and artists important to the New Mexico narrative who have not been previously collected, including women artists.

Over the last ten years, the focus has been on diversifying collections at Albuquerque Museum. Leadership in the history and photo archives departments are taking a fresh look at those collections and are proactively connecting with communities that we haven't before, including the Jewish and Asian-American communities in New Mexico. Albuquerque Museum has always been interested in telling stories of diversity—beyond the three cultures of Indigenous, Hispanic, and Anglo—and breaking stereotypes about what people expect to see in New Mexico.

"The fact that we are a general museum, not culturally or time-period specific, means that we can tell stories of New Mexico's history and culture in the most expansive manner," says Albuquerque Museum Director Andrew Connors. "It's no longer enough to wait for gifts to come through donations. With funding, we can purchase objects that fill major gaps in our collection. That allows us—and challenges us—to tell New Mexico's stories, more richly, broadly, and thoughtfully."
Albuquerque Museum boasts an impressive collection of 10,000 works of art, 35,000 historical objects, and 130,000+ items in photo archives that tell the story of New Mexico. The Museum's art collection includes works by important artists who have lived and worked in New Mexico, including Fritz Scholder, Frederick Hammersly, Judy Chicago, Ernest L. Blumenschein, Luís Jiménez, and Jaune Quick-to-See Smith, among many others.