Pipe Organ Console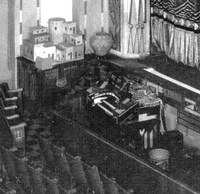 The KiMo's Wurlitzer was an opus 1667 shipped from the factory on 7/13/27 to the then called Bachechi theatre.
Inside one end of the chest, written in the cutomary blue crayon, was "Bachechi ABQ", the other end "Kimo ABQ". It was a Style D special, six sets of pipes with an extra, called Kinura.
The console and pipes were removed in the 1950's and sold to Evans Organ Co. of Albuquerque.
It was subsequently installed in a church in Texas, used for several years, then dismantled and sent to a private buyer in California.
The KiMo was surveyed by a representative of the American Theatre Organ Society in January 2005 for the possible re-installation of a restored vintage pipe organ but sadly, due to the results of a major fire in the early 1960's and subsequent reconstruction of the walls at the front of the stage, it is no longer possible.
An unintended benefit of the instrument's removal is that it would have been totally destroyed in the fire.