Endangered Species Carousel
Carousel features endangered species from all over the world.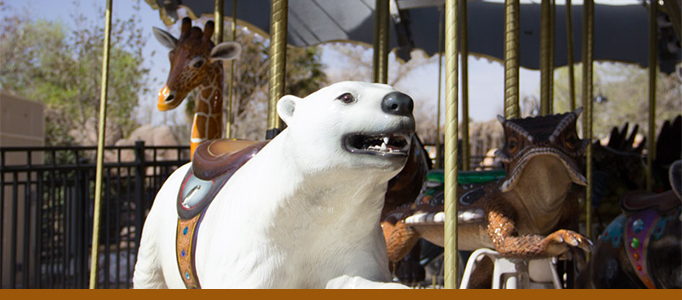 Carousel Hours
November Days & Hours
(until Dec. 3rd, 2023)
Friday - Sunday - 10 a.m.-4:30 p.m.
The T. Kevin McNicholas Endangered Species Carousel features 30 endangered species including a Western lowland gorilla, white rhino, Mexican gray wolf, Asian elephant and one-of-a-kind Tasmanian devil, which was specially created for the ABQ BioPark. All animals are hand-painted and carved by Chance Rides. It also features a spinning tub for kids and an ADA accessible swan chariot.
Carousel tickets are $3 per ride, with all proceeds going to the New Mexico BioPark Society. It will operate from 10 a.m.-4:30 p.m. daily, weather permitting.
Other nearby attractions will include a picnic area, a renovation of the Cones ice cream shop, stroller parking, beautiful landscaping and a playground area for pre-school aged kids.
The carousel was made possible by a large donation from SSA, a company founded by T. Kevin McNicholas. McNicholas, along with business partner Timothy Brantley, operates visitor services in more than 36 zoos, museums, aquariums, botanical gardens and related cultural attractions across the country.