Bob Gerding Catch and Release Pond
Enjoy fly fishing at Tingley Beach's southernmost pond, the Bob Gerding Catch and Release Pond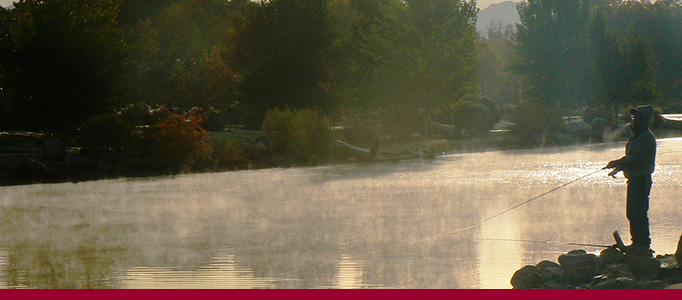 The pond is designated Special Trout Water, so when the pond is open, please catch and release only. Anglers are allowed to use flies and lures with single barbless hooks.
The Bob Gerding Catch and Release Pond is stocked year-round with the popular rainbow trout.
Handling the fish out of water will remove some of its protective slime, making it vulnerable to illness. To help prevent this, keep fish in pond water while gently removing the hook but if you need to handle the fish, use WET HANDS. Don't drag the fish over the rocks or in the sand and release fish as quickly as possible.
Give fly fishing a try at this beautiful and convenient Albuquerque pond.
Catch and Release Pond Rules
Catch and release fishing only.
No live or artificial bait.
Flies and lures with single barbless hooks only.
Don't drag the fish over rocks or in the sand.
For more information on fishing in Special Trout Waters visit