Watch the Waterfowl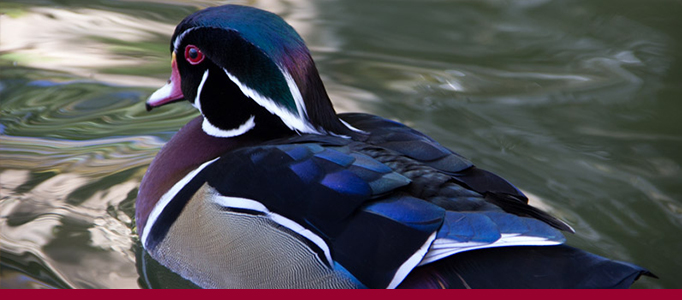 Tingley Beach and the nearby Bosque ponds are great places to observe birds.
Wild Animals at Tingley Beach
All of the birds at Tingley Beach are either wild or feral animals. They are not ABQ BioPark exhibit animals, so staff do not regularly maintain them, but we do try to protect the welfare of all animals that may visit our facilities. 
BioPark staff do attempt to collect any sick or injured birds at Tingley Beach for treatment whenever possible. However, because the birds are wild or feral, they will resist capture to the very best of their ability. Despite our best attempts, we often can't catch a bird whose wings are still working well.
We would prefer that none of the wildlife at Tingley Beach ever get tangled with fishing line. The best way to deal with this problem is to make sure that all fishing line is disposed of properly, and there are several recycling bins for this purpose located around the fishing ponds.  Tingley Beach guests can help wildlife by recycling their own fishing line and helping us to pick up any fishing line that they may see on the ground and place it in the provided recycling containers. 
Although these waterfowl are not BioPark animals, they should be treated appropriately. Please do not allow children or dogs to chase the birds.
Feeding the Waterfowl
Many people enjoy feeding the birds at Tingley Beach.  It is best if you do not feed the wild birds, but if you do, we ask that you always feed away from the water (to reduce pond pollution) and follow the guidelines for healthy foods (to protect bird health). 
Bread is not nutritious for birds. Healthier choices for feeding the birds include:
Oats (rolled or quick)
Cracked corn
Frozen peas or corn
Grapes (cut in half)
Lettuce (chopped)
Veggie trimmings and/or peels
Earthworms
Thank you very much for your cooperation.