Let the Sunshine In
On view at Albuquerque Museum. Let the Sunshine In captures life in Albuquerque from 1968-1972 through street photography.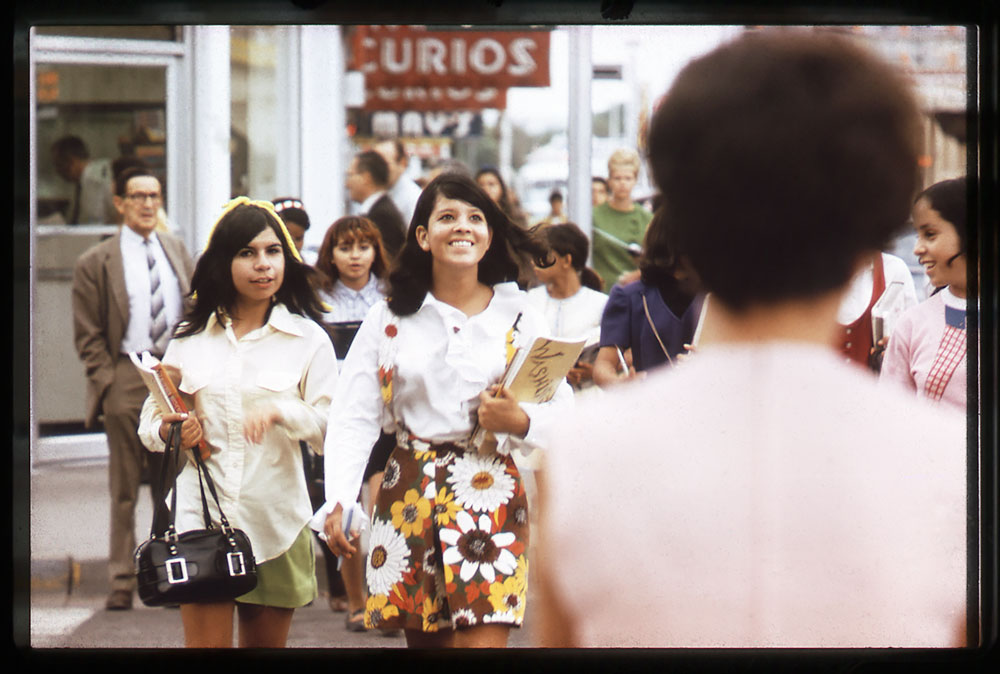 Walter McDonald, Teenage Girls on Central Avenue, 1969, 35mm color slide, Albuquerque Museum, PA1996.029.192
On View through March 14
Walter McDonald
Elderly Man, 1969
35mm color slide
Albuquerque Museum
PA1996.029.189

The exhibition will be on view in the Keleher Gallery.
Details subject to change.
Let the Sunshine In captures life in Albuquerque from 1968-1972 through street photography. 
Street Photography, as a style, was especially popular in the United States during the 1960s and 1970s when photographers like Lee Friedlander and Garry Winogrand captured scenes around New York City. It is a type of documentary photography, but street photographers are usually less invested in telling a specific story through their work. Instead, they focus on capturing spontaneous moments which often mirror society in a way that documentary photographers sometimes miss. 
In 1969, the Albuquerque Museum, still in its infancy, hired former Albuquerque Tribune photographer Walter McDonald to capture Albuquerque life through the format of 35 mm color slides. He walked the sidewalks, drove the interstates, and rode in helicopters to show who the city's citizens were: what they did, where they worked, and how they lived. 
He captured the vibrant downtown, a popular transit system, the beginnings of Urban Renewal, the growth of the Northeast Heights, early construction of Rio Rancho, the beginnings of the Albuquerque Museum, the aftermath of the Roosevelt Park Riot, and, through it all, the colorful fashion trends of the time. 
Fifty years later, our exhibit, Let the Sunshine In, hopes to shed light on how Albuquerque has changed—or remained the same—and share stories of a few pivot points in the city's history during those years. 
Thousands of slides were taken by McDonald and other photographers. The photos were scheduled to be part of a state-of-the-art multimedia exhibit in a gallery at the Museum of Albuquerque, back when it was housed in the Old Airport. It took several years for that exhibit to be installed and it was controversial due to the rising costs of production and the limited budget of the new museum. The controversy became so heated, it led to the resignation of the Albuquerque Museum's first director, Frank Crabtree. The slides themselves survived at least one call to be destroyed, and were shelved until 1996. It was then that Photo Archivist Mo Palmer accessioned them into the Museum's permanent collection. 
The slides have rarely been seen in the 50 years since they were created. This exhibit marks the first time the Photo Archives department has exhibited color photography from its permanent collection. 
Let the Sunshine In opened in the Keleher Gallery on December 21, 2019.