Eye to I: Self-Portraits from the National Portrait Gallery
On view at Albuquerque Museum. Self-portraits from the National Portrait Gallery featuring works by Elaine de Kooning, Fritz Scholder, Chuck Close, and many more.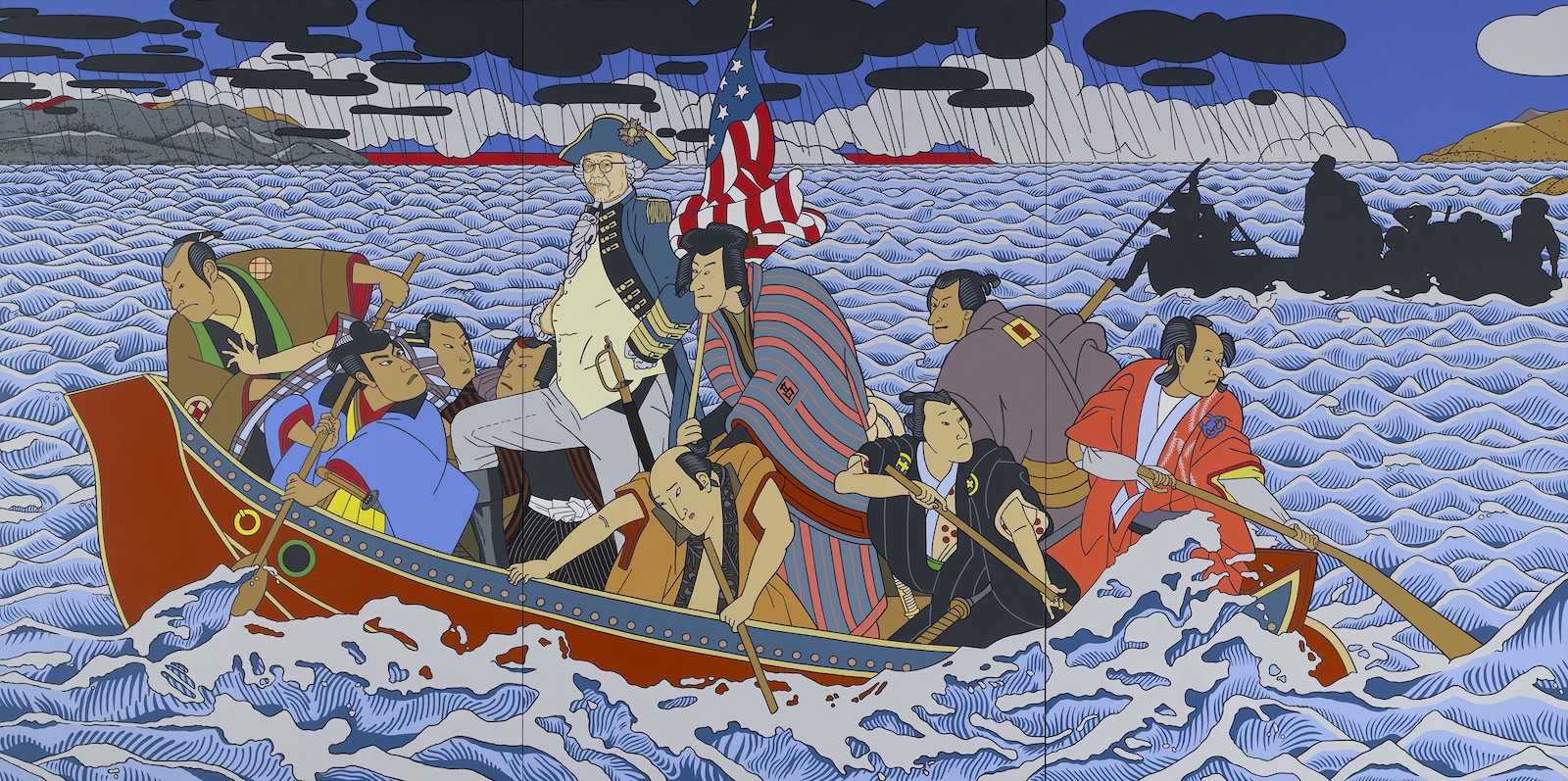 Roger Shimomura, Shimomura Crossing the Delaware, 2010, acrylic on canvas, National Portrait Gallery, Smithsonian Institution; acquired through the generosity of Raymond L. Ocampo Jr., Sandra Oleksy Ocampo, and Robert P. Ocampo © 2010, Roger Shimomura 
Eye to I: Self-Portraits from the National Portrait Gallery
On View
June 12–September 12, 2021
Elaine de Kooning, Self Portrait, 1946, oil on Masonite, National Portrait Gallery, Smithsonian Institution, courtesy Elaine de Kooning Trust
The exhibition has been organized by the Smithsonian's National Portrait Gallery, Washington, D.C. and supported in part by Mr. and Mrs. Michael H. Podell. Visit their website for further information.
The exhibition will be on view in Gallery 7.
Details subject to change.
At a time when countless "selfies" are being posted on social media channels and identity is proving to be more and more fluid, the exhibition presents a sampling of how artists have approached the exploration of representation and self-depiction through portraiture. With each self-portrait, artists either reaffirm or rebel against a sense of identity that links the eye to "I." Drawing from the National Portrait Gallery's vast collection, Eye to I will examine how artists in the United States have chosen to portray themselves since the beginning of the last century.
Eye to I features more than 50 works in a variety of styles and media ranging from caricatures to photographs, from colorful watercolors to dramatic paintings and time-based media. The exhibition will trace the process through which select artistic practices have transitioned from gazing into the mirror to looking into the camera; from painted and drawn surfaces to mechanical reproductions such as prints and photographs; from static forms to video. Artworks to be included in the exhibition span the art historical timeline from 1901 to today. Early works will include self-portraits of Edward Steichen, Alexander Calder, and composer George Gershwin, who was also a painter. More recent self-portraits include a video work by Ana Mendieta, and work in a variety of media by Chuck Close, Lois Dodd, Maria Magdalena Campos-Pons and Alison Saar, as well as a large-scale painting by Roger Shimomura, Shimomura Crossing the Delaware. 
"Individuals featured in Eye to I have approached self-portraiture at various points in history, under unique circumstances, and using different tools, but their representations—especially when seen together—all raise important questions about self-perception and self-reflection," says Brandon Brame Fortune, chief curator, Smithsonian's National Portrait Gallery. "Some artists reveal intimate details of their inner lives through self-portraiture, while others use the genre to obfuscate their private selves or invent alter egos."
Featured in Eye to I will be self-portraits by prominent figures in the history of portraiture, including Robert Arneson, Alexander Calder, Jasper Johns, Allan Kaprow, Deborah Kass, Elaine de Kooning, Jacob Lawrence, Louise Nevelson, Irving Penn, Robert Rauschenberg, Fritz Scholder, Roger Shimomura, Edward Steichen, and many more.
PUBLICATION
Eye to I: Self-Portraits from the National Portrait Gallery has a richly illustrated companion volume that features an introduction by Brandon Brame Fortune and nearly 150 insightful entries on key self-portraits in the museum's collection. The book was published by the National Portrait Gallery, in association with Hirmer Publishers (2019). 336 pages. 175 color plates. 7 x 9 in. Hardcover. $45.00. Distributed by the University of Chicago Press.
Public Image/Private Self: Exploring Identity through Self-Portraiture
Long before the social media selfie, artists created self-portraits that converted the inner, private self into an outer, public persona. Robyn Asleson, Curator of Prints and Drawings at the National Portrait Gallery, highlights some of the ways in which artists have used self-portraits to construct versions of themselves that foreground particular aspects of identity, including life experience, artistic affiliation, nationality, and gender.
This program premiered on Sunday, June 13, 2021 via Zoom. 
Conversation with Artist Paula Wilson
Albuquerque Museum's Head Curator Dr. Josie Lopez and artist Paula Wilson explore the ways portraiture is examined and redefined through Wilson's work, currently on display in the exhibition, Eye to I: Self Portraits from the National Portrait Gallery.
Paula Wilson is a mixed-media artist who studies and sources imagery from different cultures, geographies, and times to develop a unified, visual language of her own. She works by collaging multiple forms of visual language together: ancient motifs, tropes from Western art history, and identifiers of her home in the New Mexico High Desert.
This event premiered on Wednesday, July 21, 2021.