Albuquerque Museum History Collection
Information about the history collection at Albuquerque Museum.
From Hispanic religious art, Native American textiles and jewelry, toys and early computers, to railroad and Route 66 memorabilia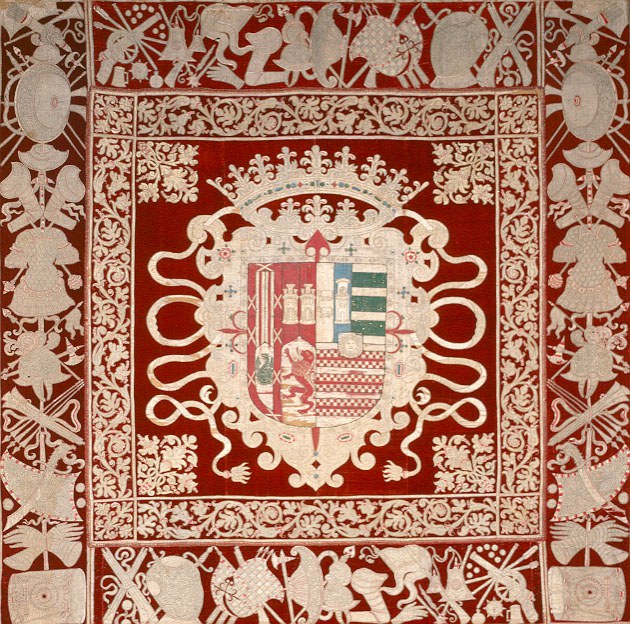 Repostero, 1665, silk, velvet, gold, silver, linen and jute, 142 x 142 in. Albuquerque Museum. Gift of the 18th Duke (Don Beltran Osorio y Diez de Rivera) and Duchess of Alburquerque, Spain via the City of Albuquerque Public Art Program, PC1973.33.1
Lambert Homer (Zuni) and Roger Skeet (Navajo), concha belt (detail), 1930s–50s, silver, Villa Grove turquoise, leather, Albuquerque Museum, gift of Kenneth Alan Wallace and his children, Andrew, Aaron, Susanna, Megan, and Glen, PC2010.34.1 
Route 66 highway sign, 1940–1950, steel, paint, reflective coating, Albuquerque Museum, museum purchase, Special Revenue Fund, PC2013.8.1
Albuquerque Museum's History Collection comprises about thirty-five thousand artifacts, cultural arts, maps, photographs, and archives that interpret the history of the central Rio Grande valley from 12,000 CE to the present. The collection also includes two historic properties: Casa San Ysidro: The Gutiérrez/Minge House in Corrales, which houses the Ward Alan and Shirley Jolly Minge Collection, and the Little House Diner, which currently houses the Albuquerque Police Department's Monte Vista Triangle substation.
The 1967 gift of the Albuquerque Historical Society's core collection, approximately nine hundred objects, helped to define the History Department's scope of collecting. It includes objects that interpret the history of the central Rio Grande valley and, for territorial period to twentieth-century collections, the greater Albuquerque area. The Society's core collection is strong in Albuquerque's founding families, including the Armijo and Segura families of Old Town, the Ilfelds of New Town, and Civil War veteran Zenas H. Bliss. Consisting mainly of domestic artifacts that would have been used from the mid-nineteenth to the early twentieth century, the gift helped the museum focus on targeted acquisitions.
The History Collection Today
With a core of generous donors and multiple galleries with which to present major historical themes, the museum has been able to build focused twentieth- and twenty-first-century collections covering such topics as the Alvarado Hotel, Route 66, and the film and television industries in Albuquerque. Collectors such as Ray and Judy Dewey and Bob and Cynthia Gallegos, Norman Sandfield, Nancy Tucker, and many others have contributed objects in the areas they research and collect, and they give generously to other institutions as well.
During this new century, the Museum has built its collections in ways that help interpret the diversity of the region. Adding collections from immigrant families such as the Bluehers and Matteuccis has improved the Museum's ability to tell compelling stories about nineteenth-century immigrants and their experiences.
SOURCE: Deborah C. Slaney, Albuquerque Museum History Collection: Only in Albuquerque (Museum of New Mexico Press, 2018)
A timeline of leadership beginning with the first thirty-five families that created the Villa de Alburquerque in 1706.