From Alcaldes to Mayors: A History of Leadership in Albuquerque
A timeline of leadership beginning with the first thirty-five families that created the Villa de Alburquerque in 1706.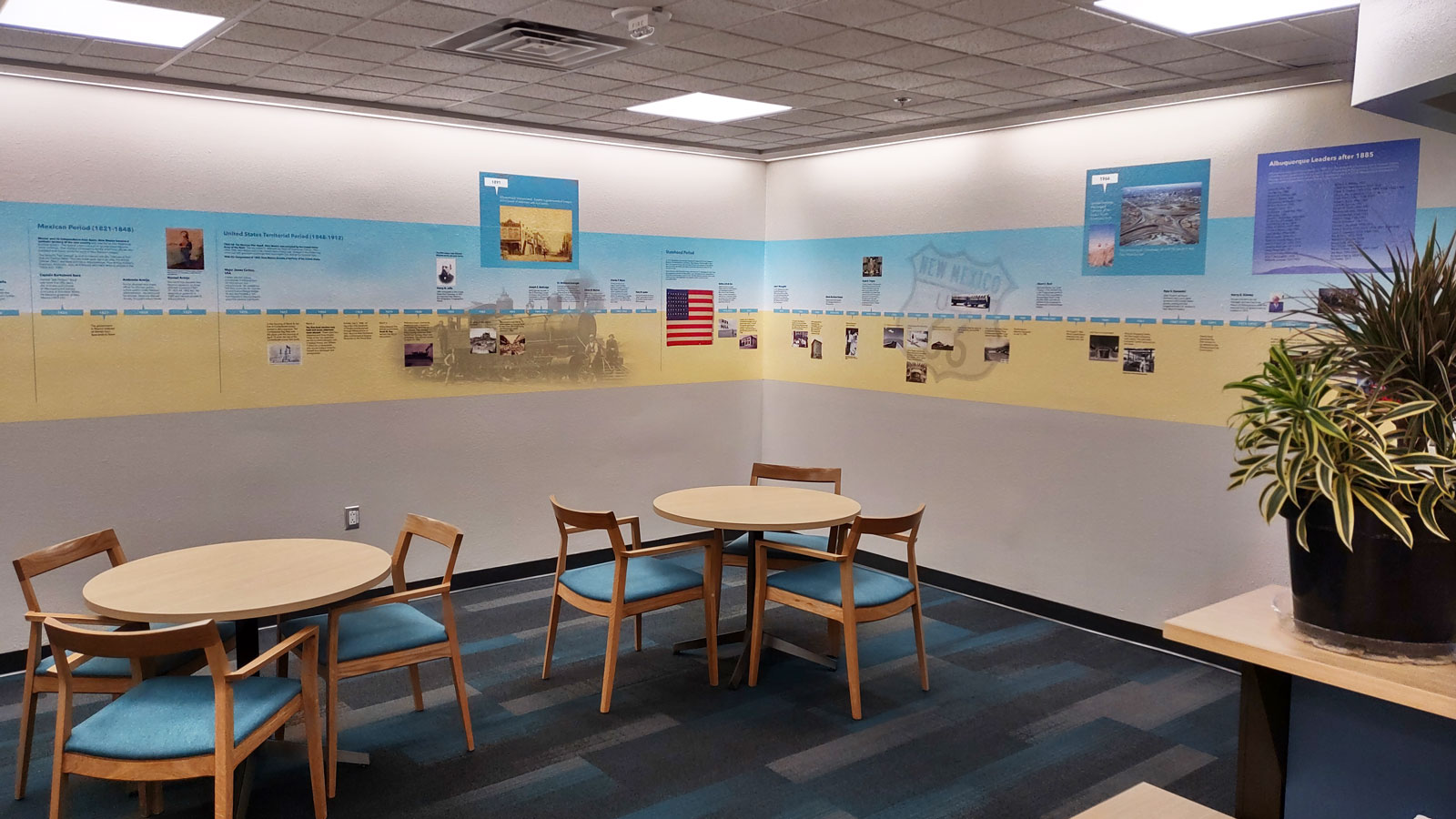 PHOTO: Robin Hesse
Currently on View:
City Hall 11th Floor and the ABQ Convention Center
Download the accompanying educational resource
Detail: 1891. Albuquerque incorporated. Creates a government of mayor a board of aldermen with four wards. Photo courtesy Albuquerque Museum Photo Archives.
The Department of Arts & Culture is proud to announce two installations of a timeline documenting the entire history of Albuquerque's city leadership dating back to the original founding families. The first is in the public waiting area of the Mayor's office at City Hall and the second is at the Albuquerque Convention Center. Research reveals 82 named leaders dating back to 1706 when military commander Captain Martín Hurtado was appointed by Governor Francisco Cuervo y Valdes to organize the original settlement of Alburquerque.
From Alcaldes to Mayors: A History of Leadership in Albuquerque was a six-month project to create a timeline of the history of leadership in Albuquerque from 1706 through the present. The project was researched by Dr. Thomas Chavez and Albuquerque Museum Digital Archivist, Jill Hartke, who spent months digging into the history of the leaders of Albuquerque to tell a wider story focusing not just on mayors or city managers, but beginning with the first thirty-five families, many headed by women, that created the Villa de Alburquerque in 1706. The timeline was designed by Albuquerque Museum Graphic Artist, Robin Hesse, and was installed in City Hall in September 2021.
Albuquerque's history of leadership covers three centuries and three countries: Spain, Mexico, and the United States. For this project, the term "leader" means not just a political individual, but any person who leads and is followed by others. Several iterations of Albuquerque's top official have existed over the last 300 years, including but not limited to alcaldes (Spanish for chief administrator), jefe politicos (political bosses), mayors, military personnel, aldermen, and city commissioners.
Though military commanders were also named alcaldes in Alburquerque's early history, Antonio Ruiz was the first elected alcalde in 1821. In 1885, Henry N. Jaffa was elected the first official mayor of Albuquerque. In all, there have been 31 individuals elected to be mayor from 1885 to present.

"We hope that the timeline gives a hint to the broader history of leaders in our community and gives names to some of the individuals whose determined leadership led to the survival and growth of a small agricultural village into the largest city in the state of New Mexico," says Hartke.
Through historic documents and photographs, Chavez, Hartke, and Hesse illustrated the history and provide a glimpse into the challenges and successes of our city. Many state and national leaders came from Albuquerque, and although they did not all serve in political office for the municipality, their stories illustrate that the reach of Albuquerque's leaders extends far beyond its city limits.
Virtual Walk Through
From Alcaldes to Mayors: A History of Leadership in Albuquerque