Document Actions
The Citizen's Police Academy is a tuition free, twelve-week program designed to introduce members of the community to the Albuquerque Police Department.
Upcoming Academies
View upcoming Citizen's Police Academy classes.
Apply Today
Apply online for the Citizen's Police Academy.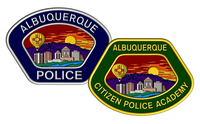 The Academy is designed to teach citizens about the philosophy, policies, and guiding principles of law enforcement and ethical conduct governing police services in our community.
Students will receive classroom instruction by personnel from many police department divisions including presentations and demonstrations from Homicide, Crime Lab, Narcotics, K-9, and SWAT.
Once training is completed, students are given the opportunity to complete an eight-hour ride-along with a police officer. This ride-along is usually an eye-opening experience for many students as they get to see the real day-to-day activities of the police.
Student Requirements
Applicants must be at least 18 years of age.
Applicants can not have any felony convictions.
Applicants can not have any misdemeanor or D.W.I. arrests within the last three years prior to application date.
Applicants must pass a background check conducted by the Albuquerque Police Department.
Applicant must be a resident of Albuquerque.
Notice about Requirements
Please do not let these requirements keep you from applying.
We do not automatically eliminate candidates from attending the Citizen's Police Academy based on the above requirements. All applications are individually reviewed and attendance decisions made on a case by case basis.
Apply Today
Apply online for the Citizen's Police Academy.
Graduation
Upon successful completion of the Citizen's Police Academy, participants attend a graduation ceremony and are awarded a certificate bearing a replica of the Citizen Police Academy patch.
Graduates may also elect to participate in the Albuquerque Police Department's Volunteers Services Program.
Next Session
Learn more about Albuquerque Police and help your community.