Cultural Services
Information about Cultural Services in Albuquerque.
Enjoy Albuquerque's unique cultural events and attractions. Concerts and dancing, museums and wildlife, fireworks and holiday lights, parades, demonstrations, and more.
Summertime in Old Town
Every weekend from May to August, Old Town is the best place to be with it's beautiful plazas, great food, unique local shops, and live music on the gazebo, it is the perfect way to spend a day with friends and loved ones.
Westside Summerfest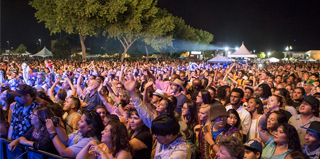 Free, family-friendly concert series including an artisan market, microbrew garden, food trucks and live entertainment from local and national acts all in a city park under the summer sky.

Free Arts & Culture August 2019
Take a look at our calendar of free arts and cultural events taking place in the month of August.
Facilities & Attractions
ABQ BioPark
The ABQ BioPark is New Mexico's most visited destination.
Aquarium | Botanic Garden | Tingley Beach | Zoo
Albuquerque-Bernalillo County Library System
Our libraries are a favorite spot here in Albuquerque with many events to support them.
View more information.
Albuquerque Museum
Always popular, the museum chronicles over 600 years of our City's history under its roof.
View more information.
Anderson-Abruzzo Albuquerque International Balloon Museum
Experience the history, science, sport, and art of ballooning and other innovative forms of flight.
View more information.
Historic Old Town
Old Town's history in Albuquerque is long and storied with new fun on the horizon.
View more information.
KiMo Theatre
The iconic KiMo Theatre offers a unique venue for quality entertainment in Downtown Albuquerque.
View more information.
South Broadway Cultural Center
This Center features a Theater, Multi-Purpose Room, Art Gallery and Library, and is a complete multicultural center.
View more information.
Explora
Albuquerque's most interactive children's museum. Explora has a unique public partnership with the City of Albuquerque.
View more information.
Services
Event Permitting
Information about obtaining a City of Albuquerque event permit.
View more information.
GOV TV 16
GOV-TV is the local government access cable television channel in Albuquerque and Bernalillo County. Live stream.
View more information.
Public Art Urban Enhancement Division
Albuquerque has one of the oldest Public Art programs in the country.
Annual Reports to the Community
A report of the progress made at cultural facilities and attractions.
Transparency Information
Attendance, cost of services, materials borrowed and other data.
View more information.
2013 NEA Our Town Grant Program
Information and updates about the Grant Program.
View more information.
Partnership Proposal
Partner with the Cultural Services Department on an event or program.
View more information.
Upcoming Events