City Councilor Don Harris
Welcome to District 9, Councilor Don Harris.
Email Councilor Don Harris: [email protected]
Contact Policy Analyst Dawn Marie Emillio:
[email protected]
(505) 768-3123
Find me on Facebook
Find me on Twitter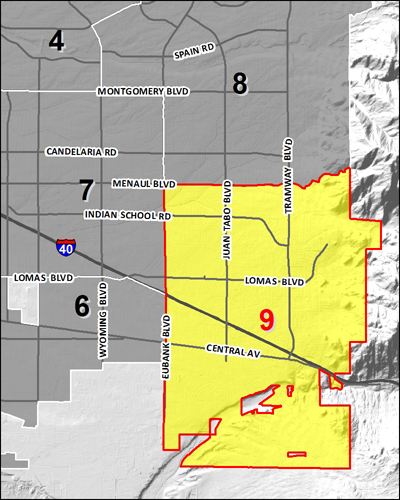 District 9 is located on Albuquerque's southeast side.
Councilor Don Harris represents District 9, the far Southeast Heights and Foothills. He was first elected to the City Council in 2005.
What's Important in District 9
Councilor Harris is committed to improving the lives of residents in District 9 and the City of Albuquerque as a whole.
Get Help for Common Issues
Need more help? Didn't get a response? Contact us right away and we'll help. Send us an online request or call my policy analyst at (505) 768-3123.
Photos from District 9
Latest News & Events
On April 6, Albuquerque City Councilors Harris, Lewis, and Sanchez will introduce legislation that will revise the Open Space Trust Fund to make all funds available for acquisition of open space land.