City Councilor Diane G. Gibson
Welcome to District 7, Councilor Diane G. Gibson.
Email Councilor Diane Gibson: [email protected]
Contact Policy Analyst Chris Sylvan:
[email protected]
(505) 768-3136
Find me on Twitter
@_Diane_Gibson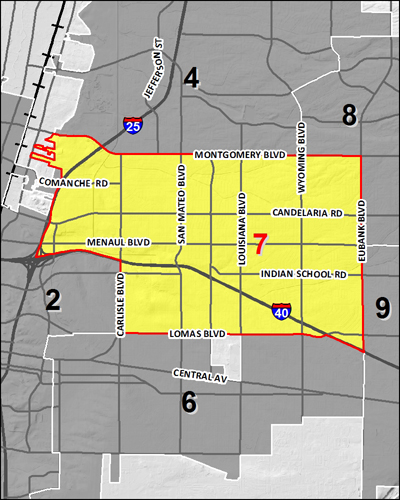 District 7 is located in the center of Albuquerque's east side.
City Councilor Diane Gibson represents District 7, Albuquerque's mid-heights including uptown, parts of the north valley and parts of the near northeast heights. She was elected to the City Council in October 2013.
Learn more about Councilor Gibson.
What's Important in District 7
Councilor Gibson is committed to improving the lives of citizens in District 7 and the City as a whole.
Get Help for Common Issues
Need more help? Didn't get a response? Contact us right away and we'll help. Send us an online request or call my policy analyst at (505) 768-3136.
Photos from District 7
Latest News & Events