Document Actions
Information about the Planning Department.
Quick Links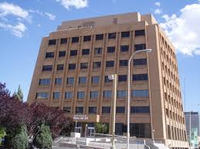 The Albuquerque Planning Department provides a full range of services from processing building permits to developing long range, regional plans and policies. The department also houses several quasi-judicial boards and commissions.
Planning Department Location
Plaza del Sol, 600 Second NW, Albuquerque, NM 87102
Mailing address: P.O. Box 1293, Albuquerque, N.M. 87103
Telephone: (505) 924-3860
Business hours: Monday - Friday, 8:00 a.m. to 5:00 p.m.

Comprehensive Plan Update & Unified Development Ordinance. The Planning Department recently kicked off a major public process to update the Comprehensive Plan and create a Unified Development Ordinance.  The City has hired a consultant team, led by Clarion Associates, to improve the regulatory system guiding land use development and transportation planning citywide, including major updates to the Zoning Code and Development Process Manual. Please visit the project website or visit us on Facebook for more information. If you have questions, please contact Mikaela Renz-Whitmore (505) 924-3932 or

[email protected]

.
Notices
ZHE - Notice of date change for the Zoning Hearing Examiner Hearing from Tuesday, February 16, 2015 to Friday, February 20, 2015, 9:00 am. More...
Project #1001620, 14EPC-40007:  Proposed Text Amendments to the Zoning Code - At its public hearing on March 12, 2015, the Environmental Planning Commission (EPC) will consider a text amendment to Zoning Code Section 14-16-1-5, Definitions, and a new Zoning Code Section 14-16-3-25. The proposed text amendments, which would apply City-wide, would define mobile food units and establish regulations regarding mobile food units on private property. Mobile food units would be permitted on private property in all zones, except residential zones, with permission from the property owner. The mobile food units would not be allowed to occupy parking spaces needed to meet minimum parking requirements or obstruct access to and/or from the property. Text amendments to the Traffic Code (Section 8-5-1-42) are also proposed, though they are not the purview of the EPC. The proposed bill (O-15-36) can be found at:   https://cabq.legistar.com/Legislation.aspx Please contact Catalina Lehner-AICP, Senior Planner, at (505) 924-3935 for more information. Please submit any comments to her no later than March 2, 2015.
Update to the Coors Corridor Plan – The first hearing by the Council's Land Use Planning & Zoning Committee is intended to be scheduled for Wednesday, April 15, 2015. For more information go to Coors Corridor Plan page or contact: Carol Toffaleti (505) 924-3345 or

[email protected]

. (Posted February 24, 2015)
Bikeways & Trails Facility Plan - On October 9, 2014, the Environmental Planning Commission unanimously voted to recommend approval of the Bikeways & Trails Facility Plan to City Council. The Land Use, Planning, and Zoning Subcommittee (LUPZ) voted "do pass" to full City Council. The City Council hearing is scheduled for March 16, 2015. For more information see the City Council project information page or contact Carrie Barkhurst at (505) 924-3879 or 

[email protected]

. (Updated March 2, 2015)
Neighborhood News - The current edition has been posted.  As per the June/July 2014 edition of the Neighborhood News, page 10, the newsletter will no longer be mailed.  The current newsletter and archived editions can be found here.
Requests for Proposals
De Anza Motor Lodge RFP - posted August 14, 2014, due 1-9-15 (the deadline for submitting proposals has passed and we are no longer accepting proposals)
1st Street and Central RFP - posted June 9, 2014, due 12-5-14 (the deadline for submitting proposals has passed and we are no longer accepting proposals)
Applications, Permits & Fees
Useful Links
Meetings, News & Notices
There are currently no items in this folder.