Lucky Paws Van on the Move - Mother's Day in Old Town
Adoption fee waived.
When
This event has already happened.
May 14, 2023
Where
Old Town
200 N Plaza St. NW
505-768-3556
Description
This free event that celebrates Mom on her special day in Old Town features food, shopping, music and more. Bring the family to Historic Old Town and honor the mom in your life. The Gazebo will be surrounded with Old Town Merchants and have local entertainment from Levi Dean and the Mesa Rats, Fiesta Mexicana, and Son Como Son. Eat, dance, and celebrate Mom!
Gazebo Entertainment Schedule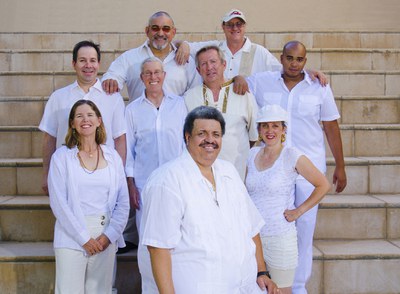 Son Como Son has one of the most recognizable sounds. Their Cuban salsa is renowned for getting audiences to dance the night away. Musical director, Cesar Bauvallet, has lead the band for years in performances around the state. Their big sound includes trumpet, trombone, bass, timbale, congas, piano and percussion that will get feet tapping. 
Event-goers will also be able to hear the musicianship of New Mexico Marimba Band, Kevin Whitcomb, and Lara Manzanares in plazas Poco A Poco and Hacienda. There's music around every corner!
Food 
Grab a quick bite from the food booths near the Gazebo like corn-on-the-cob from CCR Roasting, burgers from 2 Guys 1 Grill, and gyros from Gormet Doner Kebab. Favorite Old Town restaurants will be serving signature plates and running specials. 
Activities
Enjoy free kids' activities such as face painting and a 25-foot climbing wall, presented by the City of Albuquerque Parks & Recreation Department. 
Shopping
A variety of Old Town Merchants will have booths on Plaza Vieja around the Gazebo. Get Mom the perfect gift from D.e.e.hs Candles & More, David Behrens Art, Gobble This, Lapis Room, Lillie's Handmade Soaps, Nizhoni Soaps, Salsa Saint, and The Turquoise Tree Flower Shop. Be sure to visit all of the your favorite shops in the plazas and discover new ones around Old Town. 
Getting There
Mother's Day in Old Town is held in Historic Old Town. Streets around Old Town Plaza will close to traffic to prepare for the event. Please plan accordingly and be mindful of residents and all posted parking signs in the area. Parking is available at the Albuquerque Museum lot and the surrounding area. 
Pet Adoptions
Add another member to the family! The City of Albuquerque's Animal Welfare will be bringing adoptable pets to the event and waiving the adoption fee as a Mother's Day special. Stop by the Lucky Paws van to meet the new pet that will refer to you as Mom. 
Event Details
Mother's Day in Old Town is a rain or shine event. Well behaved pets on a leash are welcome. 
Opportunities for vending at Old Town events are reserved for Old Town Merchants. 
Albuquerque Animal Welfare reminds you to always spay or neuter your pets.
Contact
Bree Orilz
505-768-3556
or
Dial 311 (505-768-2000)