Park Use & Rental
Parks are for public use and most are on a first-come first-serve basis.
Outdoor Reservations
The following outdoor areas can be reserved:
More Recreation Information
Other City recreation facilities can be reserved or used.
Shelter or Community Center
Organized field sports, such as soccer, Little League, rugby, or football - call (505) 224 -6682
Softball Field Use - call (505) 224-6682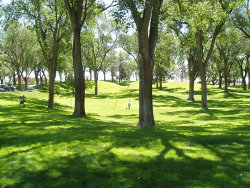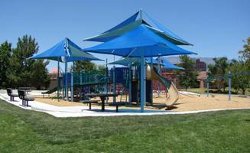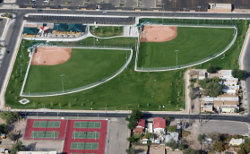 Albuquerque's city parks are open to everyone.
Consider a park for walking, running, sports activities, parties, and family and community gatherings.
Park Use Requirements
Portable restrooms must be placed on dirt or concrete (permit required).
The City of Albuquerque does not provide restrooms for private events.
Parks must be left clean and trash hauled away
Only gas or propane grills are allowed in parks. A fire extinguisher is required. Use of grills and other restrictions are determined by the Fire Marshall's Office.
For events, insurance may be required and review of your proposed event by the City Events Permit Committee.
Park Reservations
In general, reservations are not accepted for parks.
If your planned park usage involves one or more of the Park Special Conditions, please complete and return the Park Use Agreement Form.
Park Reservations contact information.
Park Special Conditions
Inflatable "fun jumps" or "bouncer houses"

To report unauthorized usage of inflatable jumpers, call (505) 242-COPS (242-2677).

Alcohol use in parks - Read the Statute
Groups over 100
Tent or canopies (stakes prohibited)
Live music, bands, or amplification systems
Serving or selling food to the public
Publicized events
Street barricading
Portable restrooms
Dunk tanks
Organized recreation
Park Rules
The following items and activities are prohibited in city parks:
Glass containers
Vehicles on grass
Staking of tents (blocks, sandbags, and water-filled barrels only)
Pony rides
Fireworks