Open Space Visitor Center (OSVC)
The Open Space Visitor Center: connecting people to place.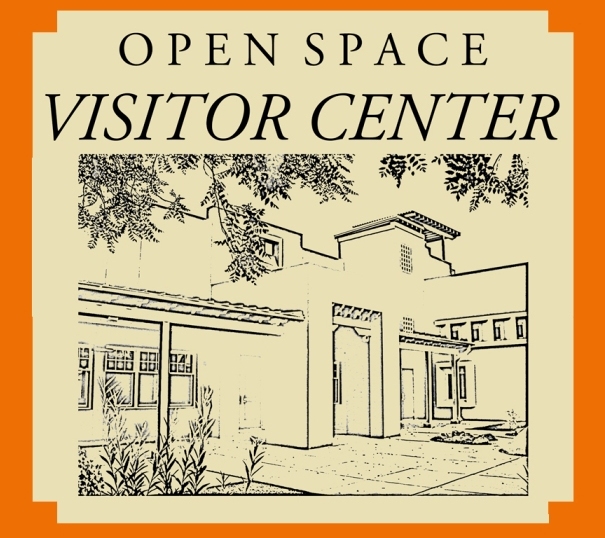 Contact
Hours
Tuesday - Saturday, 9 a.m. - 5 p.m.
Closures
The Open Space Visitor Center is closed on the Fourth of July, Thanksgiving Day, Christmas Day, and New Year's Day.
Location
The Open Space Visitor Center is located at 6500 Coors NW. View the Open Space Visitor Center map.
Location: 6500 Coors Blvd NW, Albuquerque, New Mexico
Hours: Tuesday - Saturday 9 a.m. - 5 p.m.
NOTE New Phone: (505) 768-4950
The Open Space Visitor Center has exhibits interpreting the natural and cultural resources the Open Space Division protects. It also features an art gallery, agricultural fields that draw a variety of wildlife and stunning views of the Sandia Mountains.
---
COVID-19 UPDATE (12/2/2020): In accordance with the current Public Health Order, the Open Space Visitor Center is open at 25 percent capacity. Please do your part by staying home as much as possible, wearing a mask and social distancing when you must go out, and washing your hands often.
---
Cultural Astronomy Lecture Series
Cultures worldwide have observed and utilized celestial events for millennia. Archaeologists, anthropologists, historians, astronomers, and other scholars have examined the materials left by peoples to better understand their cultural world views. This series will explore astronomy through a cultural lens of observation.
Supernovae: What are they and how are they formed?
April 17, 2021
Watch this lecture here.
Horizon-based Astronomy: Understanding The Mexica Calendar System
April 24, 2021
Watch this lecture here.
SUPERNOVA 1054 AND NATIVE ASTRONOMY- The 'ART' of Ancient Science
May 1, 2021 1:00pm
Supernova 1054 was a two-year long astronomical event (1054-1056 BCE) first recorded by Chinese astronomers, and perhaps a number of other past societies. We will take a examine and evaluate the 'evidence' for human depictions of this event, and more broadly discuss the archaeological evidence for scientific knowledge among native peoples of the past, with a focus on the New World.
Watch this lecture here.
The Three Hearthstones and the Birth of the Sun: The Orion Nebula in the Cosmology of the Maya
May 15, 2021 1:00pm
The Three Hearthstones are prominent in the cosmological texts throughout the Classic inscriptions in which they represent the place in which the sun was born as a self-sacrificing deity who gives his energy and his life so that all may live. Extraordinarily, we now know that the Orion Nebula is a stellar nursery where 700 new suns and solar systems are forming, the largest of which will one day become supernovae, creating new matter, and ultimately new solar systems.
NOTE: This event will be live via Zoom recorded for later viewing. Follow link: https://us02web.zoom.us/j/81484767825
---
Open Space Email List
---
Visitor Center Art Gallery & Land Art
For more information about future art shows at the Visitor Center, see the Gallery Schedule.
The Open Space Visitor Center in the News
Agriculture & Wildlife
The Open Space Visitor Center manages approximately 18 acres of agricultural land for the benefit of wildlife. The farm rotates corn, sorghum, millet, and alfalfa that feed winter migratory birds and other local wildlife, including pollinators.
The Open Space Visitor Center also offers comfortable indoor and outdoor viewing areas where you can watch Sandhill cranes and other migratory birds during their fall and winter migratory season.
Learn more about the Sandhill cranes.
The Flyway Project
Flyway is an iconic piece of public art that is located near the City of Albuquerque Open Space Visitor Center at the corner of Coors and Bosque Meadows Road.
Documentary Video: Flight Path: The Flyway Project, by Albuquerque Public Art program.
Artist Robert Wilson talks about Flyway his latest work that was commissioned by the Albuquerque Public Art Urban Enhancement program.
Volunteer with the Visitor Center
For more information on how you can be involved in the development of this exciting facility, call (505) 768-4960.
For the next scheduled Open Space Visitor Center volunteer training, check our calendar of events.
---