Storefront Activation Grant Program to Support Revitalization of Iconic Downtown Building
Funds will help local favorite Ex Novo expand into Downtown Core
ALBUQUERQUE – Local business Ex Novo Brewing Co. is planning a downtown expansion partially funded by the Storefront Activation Grant program through the City's Metropolitan Redevelopment Agency (MRA). The Firestone Building that was once an auto-body shop on 7th and Central will be renovated and rehabbed by Geltmore, LLC to transform it into Ex Novo's café, brewery, and bar.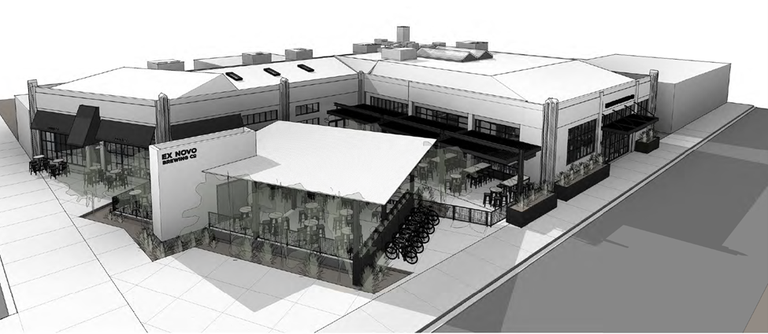 "We're investing in the success of downtown because we believe in the potential it has to be an anchor of opportunity and fun for Albuquerque families," said Mayor Tim Keller. "We're so happy to see a local success story like this one writing its next chapter downtown with the help of this transformative City program."
Ex Novo, which currently runs a Corrales location, plans to use the awarded $75,000 to renovate 11,629 sq. ft. of ground-floor commercial space in Downtown Albuquerque. The downtown location will include a full-service taproom and restaurant, and will convert the existing front parking lot into a large patio, complete with a beer garden, café, and bar.
The downtown location aims to be open and operating next summer.
"Ex Novo chose the downtown core as our second New Mexico location because of the current and expected future vibrancy of the area," said Joel Gregory, Founder of Ex Novo Brewing Co. "We'd love to contribute to what Downtown Albuquerque means to people for the next 20 years, and this grant is a helpful vote of confidence that the city also wants us there and is willing to help support business growth in the area."
"These grants are a powerful incentive offered by our department to support local businesses and create opportunities for them to thrive," said MRA Director Terry Brunner. "We encourage folks to apply for our Storefront Activation Grant program, which will not only support their success but also enable them to contribute to the exciting development underway Downtown."
The Storefront grant program is designed to support thriving urban districts with goals to attract established businesses with existing customer base; improve safety by increasing foot traffic to new businesses; decrease the number of vacant commercial spaces in Downtown Albuquerque; and create an attractive physical environment with well-designed and engaging storefronts. There are more grant recipients in the final stages of the process, and applications are still being accepted.
More details and an application can be found at cabq.gov/storefront. For questions, email [email protected] or call 505-810-7502.