Mayor Keller Appoints Two New Top Leaders for Albuquerque Police Department
Chief of Police Harold Medina to focus on crime fighting and Superintendent of Police Reform Sylvester Stanley to oversee reform
March 8, 2021
Today, Mayor Tim Keller named two new top leadership positions for the Albuquerque Police Department. Chief of Police Harold Medina will focus on core crime fighting activities, recruiting police officers and building morale. Medina is the first Hispanic American to be named Police Chief in Albuquerque since 2001. Four-time former Police Chief Sylvester Stanley is also appointed as interim Superintendent of Police Reform in addition to the position of Deputy Chief Administrative Officer (DCAO) reporting directly to the City's Chief Administrative Officer Sarita Nair. Police Reform Superintendent Stanley will be responsible for key pieces of the reform effort: Managing police academy operations including DOJ requirements related to training, and two internal affairs divisions including matters of discipline and use of force review.
Mayor Tim Keller said:
"We are entering a new era for our police department that reflects important takeaways from the past year, including our community input process and the search itself. We heard and understand that here in our town, it takes both an insider and an outsider to strike the right balance on the dual challenges of crime-fighting and police reform. It's clear the department would benefit from outside perspective especially when it comes to reform, and it's equally clear that we don't have the luxury of waiting for someone from the outside to spend a year 'learning' about crime in our very unique city; rather we need a chief who knows the ins and outs, the history, and every street corner in this city and is best positioned to fight crime, now.
"Each of these leaders will focus on their core duties, while supporting each other to get the best results. At the end of the day, it is simply unrealistic and a disservice to the realities of crime and reform to think that one leader can solve all of our challenges. While there is no silver bullet for change overnight, this innovative model has the potential to break down some of the most persistent roadblocks. Now that we're getting headed in the right direction, it's time to accelerate our progress so everyone can feel safe in the Duke City."
"Many other cities are trying out different models for their policing structures," said Chief Administrative Officer Sarita Nair. "We looked at previous iterations here in Albuquerque and across the nation and found that the massive lifts of crime fighting and reform each deserved dedicated roles. With a top level position overseeing each of these priorities, we're looking forward to the next chapter."
As Chief of Police, Harold Medina will be responsible for the core fighting crime activities of the department. While serving as interim Chief, Medina has instituted weekly, anti-crime operations that have netted over 1000 arrests. Medina created the Metro 15 to target drivers of crime and so far over 70% of those arrested remain behind bars. Medina is investing in overdue gunshot detection technology and tripled the size of the Homicide Unit from 5 detectives to 14 detectives and two sergeants to bring justice to families and hold criminals accountable. He has also begun tackling dangerous quality of life issues in our neighborhoods like speeding and street racing, which has already yielded over 500 citations for speeding, racing, careless driving and DWI. Medina is also working to build trust with the community and employees at every level to get their buy in, while setting expectations about the collective duty to improve the way APD does business.
"I love this community and I am fortunate to have raised my family in a city where so many people are willing to pitch in so we all succeed," Chief Harold Medina said. "I was honored to serve the community as an Albuquerque Police officer. Now, I am humbled that Mayor Keller is giving me the opportunity to be the Chief of Police, and to provide leadership to a new generation of officers. I am a street cop at my core. Fighting crime is my top priority. I also thrive on being out in the community, creating relationships and building trust. I look forward to working with all of those partners as we re-double our efforts to make Albuquerque safe and healthy."
Sylvester Stanley will serve as Interim Superintendent of Police Reform and Deputy Chief Administrative Officer, a new executive-level position developed to deliver candid assessments of the police department's reform initiatives. The position is based in part on the previous Chief of Public Safety roles that have been part of city leadership in the past, but has been updated for current times. Interim Police Reform Superintendent Stanley will directly oversee all Academy operations including cadet training, continuous education, and development of innovative curriculum. Stanley will ensure compliance with the court-approved settlement agreement requirements related to training and directly oversee all internal affairs matters, and will have the final say on police disciplinary matters. The Interim Superintendent will also develop policies and practices to ensure APD has a wide range of tools to foster culture change.
"It's an honor to continue my service to the community by taking on this new, innovative role," said Sylvester Stanley. "Bringing real reform and culture change is a mighty task. It's no secret that the Department has been struggling to prevent and correct mistakes through training and to hold people accountable for misconduct when that training doesn't work. But we are not going to give up on the vision we all share, to make it possible for people from all walks of life to feel safe in our city. This role will be pivotal not only for working with the DOJ, but for making sure that reform efforts will last even after the monitor is gone. In this executive-level position, I will oversee Academy operations, DOJ requirements related to training, and internal affairs matters including discipline. I have served as Chief of Police four times, and am one of only three African Americans in New Mexico who has made it to that rank. I look forward to making history with our community again as we build out this significant role."
Mayors are ultimately responsible for selecting appointed positions, but Keller chose to create a community input process for the police chief search. The City began the national search for Chief of Police in October and spent the following three months gathering input from the community. The search process was guided by contracted specialist, Herb Crosby, a local consultant and owner of Avtec. Mr. Crosby and City staff conducted over 40 community input sessions to hear directly from folks about what they would like to see in the next chief. The City received nearly 2,300 responses to the online survey seeking input and published a report here.
Both the Chief of Police and Interim Superintendent of Police Reform/DCAO positions are appointed by the Mayor and report directly to the City's Chief Administrative Officer. The permanent appointment of Harold Medina as Police Chief will go to City Council for confirmation. Sylvester Stanley will serve on an interim basis in his position and the administration will introduce him to City Council during a presentation at an upcoming public meeting. Stanley will help build the new position before an eventual national search for a permanent appointment, who will be subject to City Council confirmation.
"Congratulations to our new APD Chief Harold Medina. He strongly believes in working with the community to educate and encourage community-oriented policing, which is very important as our City continues to grow. I look forward to welcoming Chief Medina and Mr. Sylvester at our next Council meeting as we all work together to make our city safer." said City Council President Cynthia Borrego.
Harold Medina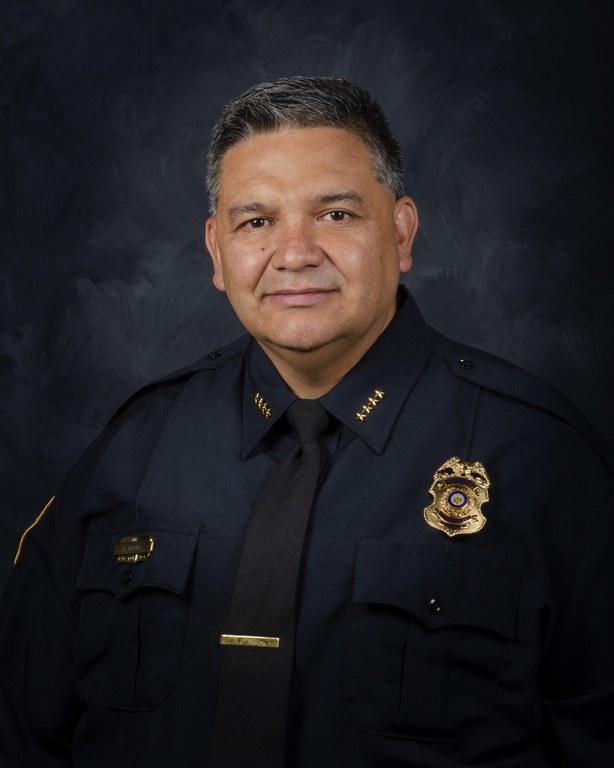 Harold Medina received a Bachelor's degree with a double major in Biology and Criminology through the college of Arts and Science from the University of New Mexico in 1994. He became a first-generation college student and graduated within four years. He continued his education, attending the Police School of Staff and Command with Northwestern University. He also attended the Chief's Development Program through Major City Chiefs.
He believes in principles that are focused on community and law enforcement partnerships, problem solving, and transforming the department to help create a strong bond of trust with the community. Medina believes in strong customer service in order to create a program based on community policing. He introduced and developed several first-time programs that emphasized on outreach to local youth. He strongly believes in working with the community to educate and have an understanding of community-oriented policing. In the winter of 2014, after serving 20 years of being a sworn officer, Medina retired from the Albuquerque Police Department as a Commander. He started his police career in November of 1995, when he graduated from the Albuquerque Police Academy. During his career, he was a patrol officer for 9 years. Medina was promoted to Sergeant in 2004 where he became involved with the Albuquerque Police Department Party Patrol. During his time with Party Patrol he focused on decreasing illegal sales to underage youth. This proactive approach brought compliance rates in the Albuquerque area up to 95%. He also focused on providing prevention and intervention education strategies to the local Albuquerque high school students. This included partnerships with the schools, teachers and laws enforcement with a focused presentation of alcohol awareness to students.
In 2007, Medina was promoted to the Lieutenant rank and remained there for 2 years. He worked closely with community partners such as Mothers Against Drunk Drivers, and was recognized by them in 2008 for the leadership of Party Patrol; his program won the Hero's award for that year. In the fall of 2009, he transferred to the Property Crimes Division. During the next 19 months through the use of community poling principles he created partnerships with community stakeholders, and increased internal communication and cooperation. During these 19 months, property crimes saw double-digit reductions in many areas.
In 2011, Medina was promoted to the rank of Commander. His philosophy was to help improve public trust and community partnerships. These initiatives led to the continued success in the reduction of property crimes in the Southwest Area Command. He was honored as the Uniformed Officer of the month as a patrol officer three times. He received the Uniformed Officer of the Year for the Albuquerque Police Department in 2004. Mothers Against Drunk Driving honored him with an individual Hero's Award for his work in preventing underage drinking in 2007.
In 2014, Medina retired from the Albuquerque Police Department and shortly thereafter became the Chief of Police for the Pueblo of Laguna. In December of 2017, Medina was appointed to Deputy Chief for the Albuquerque Police Department to oversee the Field Services Bureau. He strongly follows the principles of community oriented policing and has begun implementing Community Engagement, Partnerships with Business Coalitions, Youth and Elderly Outreach within the Albuquerque Police Department. In September of 2020, he was upgraded to Interim Chief of Police.
Sylvester Stanley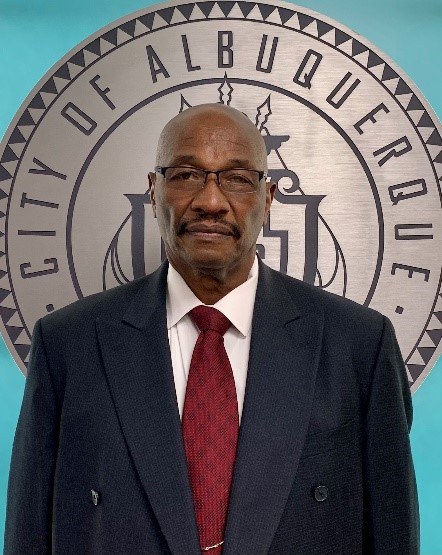 Sylvester Stanley served as Police Chief for the Isleta Police Department from 2018 to 2021, and it is the fourth time he has served as a police chief in New Mexico. His first appointment, coincidentally, was at Isleta Pueblo in December 2002 where he served for one year. He then served in Gallup, New Mexico, from 2003 until 2007. Stanley is one of only three African Americans who have made it to the rank of Police Chief in our state.
Born and raised in Trenton, Tennessee, Stanley considered it a rewarding experience growing up with six brothers and one sister. Over the years they created a special bond of trust and leaned on each other, a necessity as they were challenged as family early in life when their mother passed away when he was fourteen. The family was raised by an aunt and as Sylvester was the oldest, he had to take on the role of "man of the house". He began working on a farm in exchange for lodging and food as well receiving a share of the crops he attended. Stanley states the farm owner was a good man and allowed him to work after school, but as the need for more work to be done increased, the abbreviated schedule was not enough. Sylvester states the time spent on the farm, however, provided the family with the time needed to gel as a family and pull together before moving to the "projects".
Sylvester entered the military at age 17, enlisting in the United States Army. At the time he did not realize this would be the beginning to a lifelong career as he began his law enforcement career when he began working with military police while stationed overseas in Korea. There he learned how to work black market investigations. He continued his military police training at Ft. Riley, Kansas upon his return and his passion continued after being discharged from the military. He moved to Junction City, Kansas in 1976 where he was employed with the local police department serving initially as patrol officer and later moved up to detective. During his time in Junction City, Sylvester attended college at night completing an Associate Degree in Criminal Justice. In 1982 he took a lateral entry position with the Bernalillo County Sheriff's Department where he began his career as a patrolman but quickly advanced through the ranks serving as a Detective, Sergeant, and Lieutenant retiring, in 2002, with the rank of Captain. Sylvester served as Division Commander in each of the Bernalillo County Sheriff's Department's four division: Court Services, Administration, Field Services and Criminal Investigations.
In 1989, Sylvester was chosen to the attend the three-month Federal Bureau of Investigation's National Academy for advanced training, a prestigious Academy located in Quantico, Virginia. He has extensive training in many areas of law enforcement and administration to include hostage negotiations, vice and gang investigations, child-youth services, management and the use of deadly force.
Sylvester married Rosemary Romero in 1980 and they have two sons, one daughter-in-law and seven grandchildren. He says his heroes have been his family who have stood behind him and "nourished his spirit all along his journey. My wife, Rosemary, has been the glue that has kept our family together". She is a wonderful wife, mother, and best friend. Our sons Augustine and Sylvester II completed our lives. However, when his youngest, Sylvester II, passed away in 2015, Sylvester state he, "experienced a most painful time in his life". He stated when his mother passed away that pain was incredible but he was a child and knew he had to survive, but when his child passed away "it generated an indescribable pain that I never expected to experience. I never planned to have outlived my son".
Stanley has been and still is active in many community activities and projects which includes coaching the following organizations: Albuquerque YAFL (youth football), Rio Grande High School Football, Gallup TDFL (youth football)
Stanley's professional accomplishments include: Retired Captain with the Bernalillo County Sheriff's Department 43 years of law enforcement experience, Graduate of Southwest Command Staff College, Associate Degree in Criminal Justice, Graduate of the FBI National Academy, NM Department of Public Safety Command Certification, NM Department of Public Safety Certified Instructor, US Department of Energy Certified Instructor, Retired US Army Reserve after 23 years of service, Vietnam Veteran.
Sylvester is associated with the following organizations: International Association of Chiefs of Police, National Black Officers' Association, Fraternal Order of Police, National Exchange Club, New Mexico Sheriff and Police Association.