Collectible Concept Cars Donated to Museum at Route 66 Visitors Center
The car museum will be featured at the Route 66 Visitors Center.
April 20, 2022
Today, City Councilor Klarissa Peña is excited to announce that two concept cars, designed by Leopold E. Garcia in the 1950's, are on loan to the car museum that will be at the Route 66 Visitors Center. The cars that will be featured at the museum are the "Bubbles Car" and the "City Car."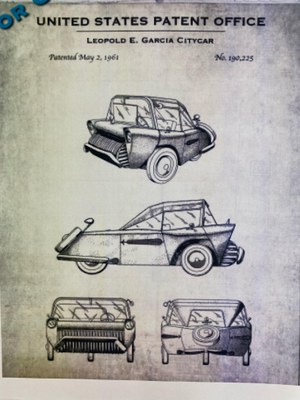 (Click on photo for slideshow)
In the 1950's Leopold created "Chic-ito". Chic-ito has an 80-inch wheelbase and carried a Ford flat head V-8 and featured a curled exhaust pipe that doubles as functional front bumper. The vehicle was debuted in several magazines and was later named "Bubbles". Bubbles received several awards including one from Indianapolis Motor World Fair, it also took top honors at the Speedorama Auto Show in Minneapolis and won second place for design at the Motocade in Sioux Falls. 
Also, in the 1950's Leopold created "City Car". City Car is a three wheeled vehicle that runs from a V-4 air cooled forklift motor. City Car is opened from the front end and has a single bench seat to sit directly behind the windshield.  Leopold received his patent in 1962 and was planning production in Germany however, this never happened, and City Car remains a concept car only. 
"It's an honor to have these cars showcased at the Route 66 Visitor's Center," said Councilor Klarissa Peña. "Leopoldo Garcia lived in New Mexico, so it's a fitting tribute to honor his innovative work here along Route 66. We are looking for other donations to the museum and are happy to consider Route 66 and City of Albuquerque history related artifacts from the community."
Leopold attended the University of New Mexico and lived in Bernalillo, NM. He owned a salvage yard and worked for Ford. Leopold also studied engineering and sculpting. After Leopold passed away and the vehicles were taken on by his sister. His sister was able to give the vehicles to a local car collector named, Phil Maloof with the promise that the two vehicles would stay in New Mexico. Phil eventually moved his collection to Las Vegas, NV and due to the promise, he gave the cars to another New Mexico car collector named Charles Mann. Charles had kept the cars until he passed away in 2017. The Mann family is upholding the promise and are excited to see "Bubbles" and "City Car" remain in New Mexico and be put on display at the Route 66 Visitors Center.
The Route 66 Visitor's Center is currently under construction. Phase one of construction includes a 21,000-square-foot museum, assembly space, catering kitchen, tap room, office space, outdoor amphitheater, parking, and landscaping. Construction began in March 2021 and is slated for completion in spring of 2022.  The center, at Central and Atrisco Vista, at the top of nine-mile hill.
People interested in donating artifacts to the museum can contact Luis Hernandez Jr., Executive Director of the West Central Community Development Group, [email protected] for consideration.