Cannupa Hanska Luger
Visiting Artist coming to Albuquerque Museum July, 2021
Cannupa Hanska Luger, We Live, Future Ancestral Technologies Entry Log, 2019. Art direction, regalia design/construction, poetry and sound composition: Cannupa Hanska Luger. Videographer/Video editing credit: Dylan McLaughlin
On view July 12, 2021–July 1, 2022 
About the 
Albuquerque Museum 
Visiting Artist Program
Since 2011, the Visiting Artist program at Albuquerque Museum has featured contemporary artists with a connection to New Mexico. The annual program provides an invited artist the opportunity to reimagine and activate the museum's lobby, which is the first space visitors encounter upon entering the museum. The program includes the display of the artist's work for one year, public engagement, and artist talks. The program aims to provide a bridge between the artistic practice of the visiting artist and the experience of contemporary art by the public.
The Visiting Artist program considers artists with compelling conceptual creativity. The large scale space of the museum lobby has inspired several artists to create site-specific installations. Artists, however, are given the freedom to determine how they want to interact with the space.
2011: Gronk 
2012: Catalina Delgado Trunk
2013: Larry Bob Phillips
2014: Ernest Doty
2015: Lea Anderson
2016: Virgil Ortiz 
2017: Paul Sarkisian
2019: Karl Hofmann
2020: Nicola López
Cannupa Hanska Luger's Future Ancestral Technologies approaches Indigenous futurism, blending media, place, storytelling and documentation of a living practice. Future Ancestral Technologies' narrative stems from a multitude of themes, including science fiction, genetic memory, and reclaiming Indigeneity. This new installation of the ongoing narrative offers multiple points of entry into an undetermined moment in the future, engaging the viewer in an innovative life-based art installation that dreams of survival and solutions while promoting a thriving Indigeneity.
Cannupa Hanska Luger is a multi-disciplinary artist of Mandan, Hidatsa, Arikara, Lakota and European descent. Using social collaboration and in response to timely and site-specific issues, Luger produces multi-pronged projects that take many forms, provoking diverse publics to engage with Indigenous peoples and values apart from the lens of colonial social structuring. Luger lectures and participates in residencies and projects around the globe and his work is collected internationally. He is a 2020 Creative Capital Award recipient, a 2019 Joan Mitchell Foundation Painters & Sculptors Grant recipient and the recipient of the 2018 Museum of Arts and Design's inaugural Burke Prize. Luger holds a BFA in studio arts from the Institute of American Indian Arts.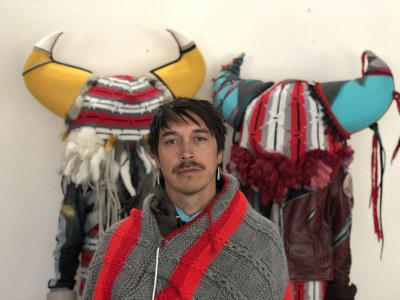 Cannupa Hanska Luger
Image credit: Ginger Dunnill, 2021  

The Albuquerque Museum Visiting Artist Program is supported in part by a grant from the Frederick Hammersley Fund for the Arts at the Albuquerque Community Foundation.