Albuquerque Police Department Museum
The Chief Paul A. Shaver Police Museum was founded in 2008 and is open to the public by appointment only. The museum traces the history of the police department from the late 1800s to the present.

The Albuquerque Police Department Museum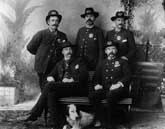 There are many interesting exhibits; including photographs, uniforms, motorcycles, badges, and early crime laboratory equipment. Many of these items have been donated or are on loan from former officers and their families.
Hours of Operation
The museum is open 10:00 am to 2:00 pm, Tuesday and Thursday.
To arrange a museum tour please email [email protected].
Please schedule a tour at least one day prior to your planned visit.
About Chief Shaver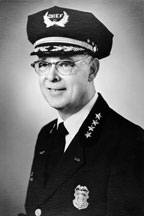 The police museum is dedicated to the memory of Police Chief Paul A. Shaver. He started his career with the Albuquerque Police Department as a patrolman in 1933. He served for a total of 38 years. He led the department as Chief of Police for 23 of those years,
from 1948 to 1971.
During Chief Shaver's tenure Albuquerque's population more than doubled in size, growing from 96,000 to 250,000 people. In response, the size of the Albuquerque Police Department grew from 30 police officers to 380 police officers.
Under Chief Shaver's leadership a permanent police academy was established and a pistol range was constructed. The Records Unit and Juvenile Division were created. Police communications, patrol strategies, and investigative procedures were vastly improved. The plans for a dedicated police facility were also formalized. In fact, this structure is still in use today.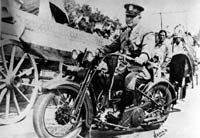 An emergency response plan for dealing with the social unrest sweeping the nation during the late 1960s and early 1970s was developed and then put to the test during the 1970 student riots. No lives were lost and injuries were kept to a minimum.
Chief Shaver's policies, procedures, and planning laid the foundation for the Albuquerque Police Department as we know it today.