Christian Frescas Dec. 25, 2019
Information about homicide investigations.
About the Victim
Case Status: Open
Case #: 190117605
Location of Incident: 7117 Lomas NE
Incident Details
Officers located Christian shot to death in the street.
If You Have Information
If you have information about this, or any other case, please contact Crime Stoppers. Crime Stoppers will never ask for your name and you will remain completely anonymous. The phone line is not recorded, nor is it connected to any caller ID device.
Call 911 for an emergency or a crime in progress.
Call (505) 843-STOP (7867)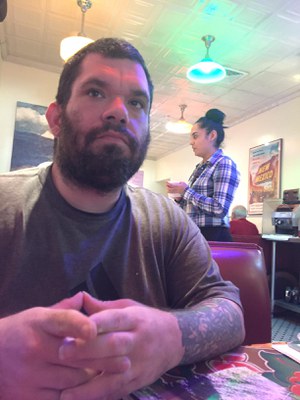 Family Story
What don't I miss about Chris?

I miss our trips to thrift stores, our favorite in Albuquerque was "Past and Present"on Louisiana Boulevard. We had a trip planned when he was taken from us on Christmas of 2019. We would each go in our own direction and meet up at the register with our treasures. One time the owner was our front making tacos for everyone so of course who would pass up a taco?

I miss our trips to June Lake, the beach (our beach was Ocean Beach in San Diego) and just quiet times driving around after we moved to Albuquerque 6 years ago.

I miss his kisses good night. I miss him calling me "Mom".

I remember Chris and I going alone to the balloon fiesta in 2018. We went to McDonalds got breakfast and parked in the parking lot at Sandia Resort, perfect seats! The balloons took off on time and we just sat on the bridge watching the balloons take off and fly around while we ate our breakfast. I loved spending time alone with Christian because he was all mine for a while. I can't even begin to say how much I miss that.

One year I had my Christmas trees out getting ready to decorate, it was a vignette so of course it had 3 trees. I came home and a tree was missing. As it turned out Christian had a friend, who had a daughter but didn't have money for Christmas. He told me the story so taking the tree made perfect sense. We then went to Toys R Us and bought Moana Christmas presents from Santa. He spent his entire paycheck. We took them home wrapped them, and delivered them to Annette for Moana. I did get my tree back a few days later. Time passed and out of the blue we found out some years later that Annette is doing well, stayed clean and sober, had another baby and is happily married. It makes me really proud that Chris could be a part of that.

If I had time with him today I would have no words, I picture myself sitting next to him, his arm around me, my head on his shoulder and he would tell me "Mom, everything is going to be OK. I Love you."