The Albuquerque Indian School Cemetery at 4H Park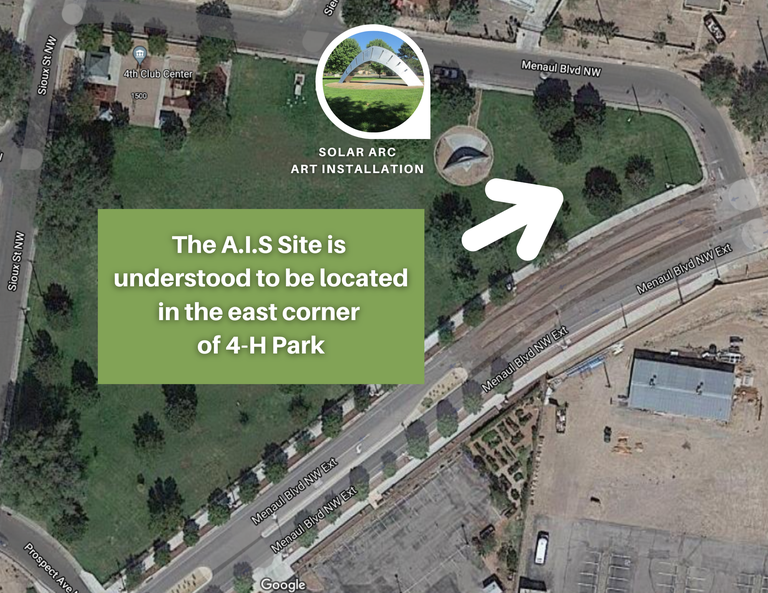 The east corner of 4H Park is a known burial site and final resting place for some students and staff who attended the Albuquerque Indian School (AIS) from 1882-1933. In 1881, the Presbyterian Church opened AIS to educate and assimilate Native children into white Anglo society. AIS was transferred to federal control in 1884.
1999 Planning Department Research Report
Recognizing the sensitive and sacred nature of this site, which is connected to a difficult and painful period of history for the Native American community, the City of Albuquerque is working with community stakeholders, those who have a connection to the site, and Pueblo & Tribal Leaders, to listen to recommendations on what steps should be taken next.
History of Site
While research into the history of the site is ongoing, using limited city records, archived news reports and existing reports from local historians, the general history of 4H park is understood as follows:
Additional resource: Albuquerque Indian School and Indian Child Removal Gallery Exhibit
Date
Description
Approx. 1882 – 1933
Site used as cemetery for some of the students and staff of the Albuquerque Indian School (AIS).
June 20, 1972

Based on City records, citizens who live nearby request city to take over care of the cemetery, Superintendent of AIS, Keith Lamb, agrees. (source: Parks and Recreation memo)

October 6, 1973
Trenches are dug for an irrigation system and remains are uncovered. (Source: Albuquerque Journal 1, 2)
October 10, 1973
AIS hires a security guard for the area and states they will place a fence around the site of the cemetery. (Source: Albuquerque Journal)
1992

The City's Public Art Program begins looking at a new site for the Solar Arc.

Near North Valley/Old Indian School Neighborhood Association apply to have it placed at 4-H, and are selected.

November 8, 1995
Solar Arc is installed and dedicated at 4-H, shortly after a plaque which acknowledges work done with the Indian Pueblo Cultural Center, and the All-Indian Pueblo Council in placing this piece of art.
1999

City of Albuquerque Planning Department contracts with Quivira Research to locate active and inactive cemeteries in and around Albuquerque. The AIS Cemetery is mentioned in this report. View the report here.

It is possible that as a result of this report, the secondary, currently missing, plaque was installed.

2019
Initial report of plaque being missing is made.
June 29, 2021
Notified of replacement plaque missing. 
July 6, 2021
City of Albuquerque 4H Park Work Group was created. 
August 10, 2021
Community Engagement Discussion #1. RE: Future of the site. View the community engagement report here. 
September 20, 2021
City of Albuquerque Commission on American Indian and Alaska Native Affairs provided recommendation letter on the Albuquerque Indian School Boarding School Cemetery Site/4H Park. View letter here.
September 25, 2021
Albuquerque Indian School Cemetery Healing Reflection and Memorial event at the Native American Community Academy. View agenda here. View press release here.
October 4, 2021
Resolution 21-205 "Acknowledging and Recognizing the Albuquerque Indian School Cemetery at 4H Park as A Historical and Sacred Burial Site; Acknowledging the Historical and Ongoing Intergenerational Trauma Experienced by Native American individuals, Families, and Tribal Nations as A Result of Indian Boarding School Policies; And Committing to Work with Tribal Nations and Local Native Americans Toward Reconciliation and Healing" passed the City Council with a unanimous vote. 
October 8, 2021
State of New Mexico Cultural Properties Review Committee approved Special Permit Application and Research Design document. 
October 11, 2021
Resolution 21-205 was signed by Mayor Tim Keller. 
December 2, 201
Virtual Tribal Consultation and Listening Session Discussion #1
December 12, 2021
Cultural Advisor held prayer/ceremony in preparation for Ground Penetrating Radar (GPR) survey. 
December 17, 2021
Ground Penetrating Radar (GPR) Survey of 4H Park. 
January 11 - 14, 2022
February 9, 2022

City of Albuquerque received formal letter of apology from the Presbytery of Santa Fe for all the American Indian Residential Schools of which were part of.

February 10, 2022

Virtual Tribal Consultation and Discussion #2

April 28, 2022

Provided updates at the All Pueblo Council of Governors monthly meeting. 

May 12, 2022 

Provided updates at the Near North Valley Neighborhood Association meeting. 

June 6, 2022

Begin updates to the irrigation system. View Public Notice here.

June 23, 2022

In person Tribal Consultation and Discussion #3. 
Click here to download a printable version of the timeline
Click here to download 'A History of the Cemetery at the Albuquerque Indian School' by Joe Sabatini
What's Next:
The City of Albuquerque Native American Affairs Office, Office of Equity and Inclusion and the Parks and Recreation Department has developed the following action plan. Steps 1-4 are currently are underway.
Share Information and History about the Burial Site in 4H Park.
Engage in direct, government-to-government tribal consultation with tribes/pueblos most directly associated with the site to get their input and recommendations on the future of the site, including: Navajo, Zuni, Apache Tribes, the Ute (Southern and Ute Mountain) Tribes, Hopi and Pima (Salt River Pima and Maricopa Indian Community).
Engage with other Native American community organizations and Native American leaders that are interested stakeholders to get their input and recommendations on the future of the site.
Seek other input from the Albuquerque community
Implement recommendations
Want to provide input or feedback? Email us at: [email protected].
Click here to download a printable version of the Action Plan
Latest News and Upcoming Events