Office of Equity & Inclusion: Our Department
Department information about the Office of Equity and Inclusion.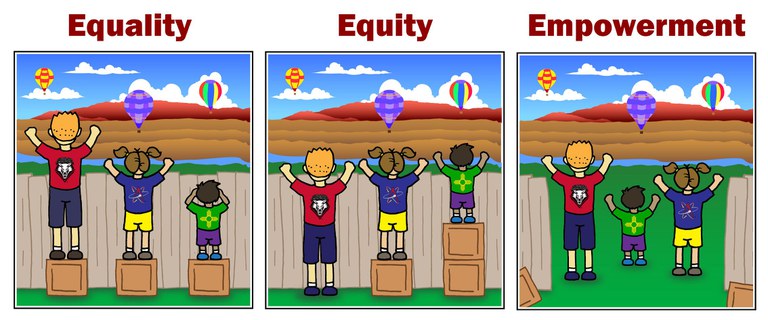 Vision: People in Albuquerque of all backgrounds are our greatest asset and have what they need to thrive.
Mission: To inspire and equip city government to make Albuquerque a national role model of racial equity and social justice.
The goals of the Office of Equity and Inclusion are to:
Develop a city workforce that is representative at all levels of the demographics of the city
Increase local purchasing and doing business with companies owned by people of color
Invest in areas of the city that have been under invested
Ensure that the city delivers city services in an equitable and inclusive manner
We define inequities as disparities in health, mental health, economic, education, or social factors that are systemic and avoidable and, therefore, considered unjust or unfair.
We value the full participation of people who are most impacted by inequity in defining the problems and the solutions.
Our Core Values:
We all do better when we all do better.
Strategies should be based on the lived experiences of those being served least by existing structures, systems, and institutions.
Use an intersectionality lens.
Areas of Responsibility
The Office of Equity and Inclusion has five major areas of responsibility:
Continuing to serve, as it has since 1974 under a different name, as a local civil and human rights advocacy resource dedicated to ensuring equal access and equitable opportunities for all people
Dismantling systemic barriers to achieve racial, gender, health and socio-economic equality
Supporting immigrant, refugee and other vulnerable communities to promote public safety, quality of life and human rights
Acknowledging the original inhabitants of our region and coordinating with tribes and native communities to cultivate equity in the lives of Native Americans living in Albuquerque
Equipping and inspiring our city workforce to embrace the diverse cultures that make Albuquerque the best place to live
Reports
Culture Change Report 2021
Since the Keller administration launched the Office of Equity and Inclusion (OEI) in 2018, more than 1,950 City employees and community members have received diversity, equity, and inclusion training. The City's Culture Change Initiative Report documents the efforts the City has undertaken to normalize conversations about equity and make progress toward a more inclusive Albuquerque.
The City of Albuquerque has moved from a 'B' to an 'A' on a report card compiled by the national Human Rights Campaign that measures how well a city supports its LGBTQ+ community. The City earned a score of 86.
The 2020 Municipal Equality Index (MEI) Report rated more than 500 cities nationwide based on how inclusive municipal laws, policies, and services are of LGBTQ+ people who live and work in those cities. Cities are rated based on non-discrimination laws, the municipality as an employer, municipal services, law enforcement, and the city leadership's public position on equality.
First Year Reflections Report
The Office of Black Community Engagement published the First Year Reflection Report. The purpose of this report is to share the first year reflections and provide an overview of data collected and analyzed specific to Black communities in Albuquerque.
Language Access Progress Report 
City Council unanimously passed a Language Access Resolution in December 2021, further directing departments to provide language access and to budget for language services. The Language Access Resolution (R-21-231) makes OEI responsible for providing departments with technical assistance, reviewing departmental language access plans and conducting periodic, random reviews of departments to check for language accessibility. The Language Access Progress Report provides a status update on compliance and spending by departments for third quarter of fiscal year 2023.
Workforce Diversity Report
Under the administration of Mayor Tim Keller, the Office of Equity and Inclusion in 2018 began examining how well the City is developing, recruiting and hiring a diverse pool of applicants so that we can become a role model for equity and inclusion, while providing good service and good jobs for those who need it the most. The Workforce Diversity Report provides a comprehensive analysis of workforce demographics. 
Eviction Prevention Report
The Eviction Prevention Report discusses the City's accomplishments, challenges, data analysis, and future plans to reach Albuquerque's most vulnerable populations with the emergency rental assistance they need.
Equity Profile of Albuquerque
The City of Albuquerque released an Equity Profile of Albuquerque which shows that inequities and disparities are holding the city back and that closing racial gaps in economic opportunity and outcomes is key to our city's future.
Bank On Burque: A Municipal Blueprint for Financial Empowerment in Albuquerque
Mayor Tim Keller announced the Bank On Burque Blueprint for Financial Empowerment in June following a six-month stakeholder engagement process. The blueprint focuses on what the City of Albuquerque can do to promote access to safe, affordable banking and financial education among City employees and community members.
The Bank On Burque Blueprint Financial Empowerment touches on four keys of financial empowerment emphasized by Cities for Financial Empowerment Fund (CFE), who provided funding and technical assistance to the City for the blueprint process: asset building; banking access; consumer financial protection; and financial education and counseling.
Follow us on social