Model Boats
The Model Boat Pond at Tingley Beach is especially for these miniature marvels.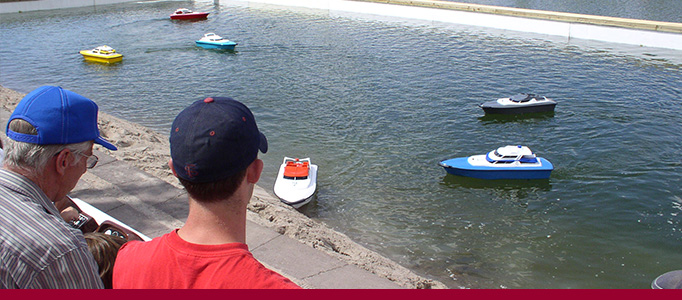 A small boat can make for a big adventure!  The Model Boat Pond is open to the public from sunrise to sunset daily.  The pond is available on a first-come, first-served basis and may not be reserved. There is no fee to access model boating. The Duke City Model Yacht Club holds races for radio-controlled sailboats every Saturday throughout the year.
Model Boating Regulations and Etiquette
Please take a moment to read the regulations and remote control etiquette below to ensure that you and other boaters enjoy your time here.
Wind or low-speed electric/battery powered craft only.
Electric boats with the capacity to travel faster than 15mph are not allowed. Gas and nitro-fueled boats are not allowed.
No swimming, smoking, open fires or alcohol.
Please help keep the area clean by putting your trash in a trash can.
If you feed the ducks, please do so on the grass to keep our sidewalks and pond clean.
Remote Control Information
There is no frequency control at Tingley Beach. Modelers are responsible for policing themselves.
Surface Frequencies are 75mhz; channels are 61 through 90.
If you are running a surface model, you should not be on 72mhz.
Toys use 27 mhz frequency and channels 1 through 6 and are designated by color.
brown
red
orange
yellow
green
blue
Make sure your channel flag is hooked to your transmitter antenna.
Always make sure a channel is free BEFORE you turn on your transmitter.
Share the channels. Check occasionally to see if someone is waiting for the channel you are using.
Share knowledge. If you know of a hazard warn your fellow modelers.
In an organized event, frequency boards and flags may be used, but it is the responsibility of the user to supply and maintain the board.
Feeding the Ducks
Many people enjoy feeding the ducks at Tingley Beach.  Please feed the ducks in the grassy areas and away from sidewalks.  This helps us keep the pond and sidewalks cleaner.  Thank you!