Feb 11, 2023
from 06:30 PM to 08:00 PM
Join us for this special sea-themed dinner and tour discussing the romantic rituals of aquatic animals.
Feb 25, 2023
from 06:30 PM to 08:00 PM
Join us at the Zoo for an after-hours happy hour with reptiles and penguins!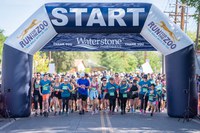 May 07, 2023
from 07:00 AM to 12:00 PM
Run for the Zoo… and walk with us too! Presented by Waterstone Mortgage.