River Otters
Visit North American river otters Chaos and Mayhem at the Aquarium.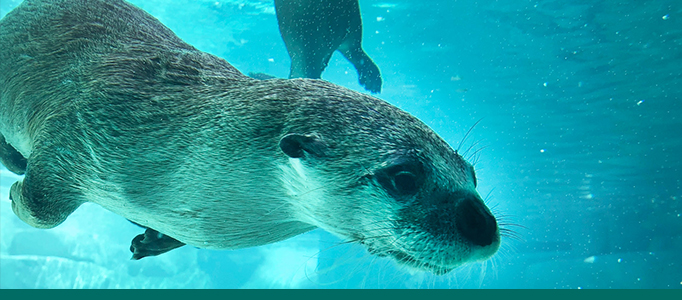 The ABQ BioPark Aquarium has two female river otters, Chaos and Mayhem. The two came from Louisiana, where they were wild otters. They were considered "nuisance otters" because they were stealing shrimp from a shrimp farm, causing stock problems for the owners. Instead of having the otters put down, the ABQ BioPark offered to take them in.
The pair arrived at the ABQ BioPark in May 2016. They stayed behind the scenes until the grand opening of the North American river otter exhibit in July 2018. 
Mayhem is outgoing, while Chaos is a bit more shy. Although the two otters are not related, they share a close bond. You can spot them tumbling around on land and in water as well as cuddling up together during nap time. 
Aquarists work with Chaos and Mayhem daily on a training regimen that aims to keep the otters enriched and provides opportunities for proactive healthcare. Learn more details about their training program here.
Return of a New Mexico Native
North American river otters are native to New Mexico's Gila River, upper and middle Rio Grande and Canadian River. Pollution, deforestation and unregulated trapping caused their decline and eventual disappearance by the 1950s. Thanks to a reintroduction program supported by federal and state government agencies, local tribes and non-profit conservation organizations, otters have returned to New Mexico. 
In 2008, a coalition of partners including Taos Pueblo, USDA Wildlife Services, Amigos Bravos, the U.S. Bureau of Land Management and the New Mexico Department of Game and Fish released five river otters in Rio Pueblo de Taos, a tributary to the Rio Grande.  Between 2008 and 2010, 33 otters were released into the Upper Rio Grande. The otters came from Washington, where they were trapped by Wildlife Services as "nuisance otters" in the Seattle area. Otter advocates hope to expand the otter reintroduction to the Gila River in the future.
Wildlife officials have also identified an otter population in northwest New Mexico's San Juan River. Experts think these otters descended from populations in Colorado or Utah, where they were reintroduced in the 1980s and 1990s. San Juan River otters are likely more genetically diverse than those in the Rio Grande—the animals reintroduced in the Four Corners region came from a variety of locations including Alaska and Nevada.