Divers in the Water
Watch scuba divers each day as they feed the animals and maintain the tanks.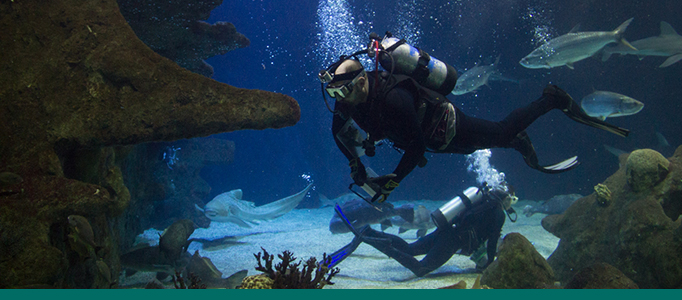 Every day, our staff take care of the fish and exhibits at the BioPark's Aquarium.
Daily chores include feeding, cleaning and scuba diving with the fish—including the sharks! Read about a day in the life of an Aquarium diver here.
Watch as Aquarium divers make their way through the Coral Reef exhibits and the 285,000 gallon Shark Tank. Divers also can be seen from the Shark Reef Cafe.
If you see divers at work, feel free to wave. They may wave back!
When To See Divers
Please note: Times may vary depending on staff availability.
Day in the Life of an Aquarium Diver